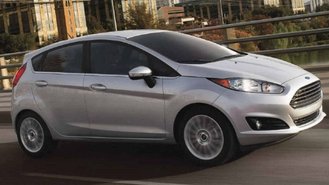 Ford is sending discount certificates to consumers as part of the multimillion-dollar settlement of a class-action lawsuit addressing problems with its DPS6 PowerShift Transmission. According to an announcement sent to dealers earlier today, the discounts are worth anywhere between $400 to $4,650 toward a new Ford vehicle.
Although this may be good news for consumers with a qualifying 2011-2016 Ford Fiesta or 2012-2016 Focus model, the program's fine print states that the value of the class action settlement certificate "is dependent upon the amount determined through the claims process" and will expire within 12 months of issuance.
Ford's official settlement website says those affected by the nationwide settlement may also qualify for benefits like vehicle repurchase and cash payments worth up to $2,325. In the case of the certificate, owners can apply it toward the purchase or lease of another Ford or Lincoln vehicle and combine it with other offers.
That said, owners may be leery about trusting Ford with another car purchase. Fortunately, newer vehicles like the Ford Explorer and all-new F-150 use a 10-speed automatic transmission. Current Ford incentives like No Payments For 90 Days offer additional flexibility, even in the case of the brand's newest full-size pickup.
According to the Detroit Free Press, more than 2 million consumers may qualify for compensation as part of a lawsuit filed in 2012 and resolved this year. PowerShift problems centered on numerous claims of "shuddering, slipping, bucking, jerking, hesitation while changing gears, premature wear," and more.
As noted by the Free Press, those who didn't opt-out of the lawsuit "were automatically included in the settlement even if they may not realize it." As a result, those who might be affected may want to ensure that they check their mail carefully. It could contain up to a $4,650 discount offer that's been years in the making.