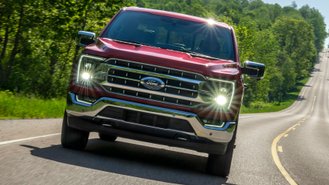 In a move we certainly didn't see coming, Ford has slashed interest rates on the bestselling F-150 pickup. The national APR promotion offers truck buyers 0% financing for up to 72 months. Based on our analysis, this could amount to a significant price cut for consumers and a stellar deal ahead of the Labor Day holiday.
The promo started last Friday, according to a bulletin sent to dealers. Through September 7th, most versions of the popular truck are eligible for 0% APR for 72 months. Previously, zero-percent financing was limited to just 36 months, with a 72-month rate of 3.9%. We consider this a tremendous opportunity for buyers.
On a $50,000 truck, a 6-year loan at 3.9% involved over $6,100 in interest and at approximately $780/month before taxes & fees. Now, the same truck can be purchased for $50,000 at $694/month. That's an $86/month potential reduction in monthly payment, giving the F-150 a huge advantage over its competitors.
For example, Chevy's best deal on the Silverado 1500 is currently 2.49% for 72 months with no payments for 120 days. Due to the difference in rates, this could cause a $50,000 Silverado to cost almost as much as a $54,000 F-150. If you're a cross-shopper, this may make the F-150 a significantly better value.
As usual, there are some catches worth knowing about. First, F-150 Tremor and Raptor models are excluded. More importantly, Ford's incentive can't be combined with most other F-150 deals. Here in California, that means giving up $3,500 in trade-in assistance cash. That said, this may represent an unusual opportunity.
Ford incentives took a hit in June when nearly every rebate was canceled in favor of trade-in assistance. If you weren't planning on trading-in a car — especially in lieu of high resale values in the used market — Ford's latest deal could be a stellar chance to save for Labor Day amid an ongoing inventory shortage.