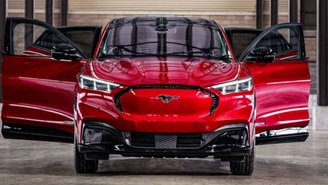 Ford is compensating Mach-E buyers in New Jersey with a $5,000 discount meant to offset the expiration of a popular plug-in incentive called the Charge Up New Jersey program. The move comes amid production delays for the all-new EV.
According to a bulletin sent to dealers, Ford is offering a "Mach-E Order Certificate" worth $5,000 off MSRP. The incentive actually went into effect back on March 16, and Ford spokesperson Emma Bergg confirmed the following for us yesterday:
"As part of our commitment to treat customers like family, we are providing $5,000 to approximately 125 customers who did not receive their Mustang Mach-Es before a New Jersey state incentive deadline passed."
As noted on the Charge Up program website, "Vehicles purchased/leased or ordered by December 15, 2020 but not delivered until after March 15, 2021 may not be eligible to receive the incentive." The rebate was a post-purchase incentive worth up to $5,000.
While the number of affected customers is relatively small given the large number of reservations the Mach-E has managed to garner, Ford's offer could go a long way toward building a sense of goodwill among disgruntled EV buyers in Jersey.
Based in spirit on the Ford Mustang, the 100% electric Mach-E has been beset by production delays. Fortunately, Ford has been compensating buyers with incentives like free EV charging as well as cash toward their first month's payment.
Apart from a price cut late last year, Mach-E deals also offer the chance to take advantage of low-interest financing and a lease-like choice called Ford Options plan that could save consumers money compared to a traditional lease.