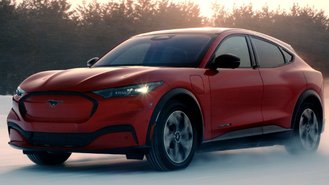 A significant difference in incentives can make the Mustang Mach-E a better deal than a V8-powered Mustang coupe, our analysis finds. A mix of better financing rates and special plug-in incentives can actually make stepping up to the all-electric SUV roughly $6,000 cheaper to buy than a Mustang GT. Here's why.
Although the 2021 Mach-E has a higher MSRP, a round of early price cuts helped make the electric SUV more accessible. The cheapest Mach-E now has an MSRP of $43,995 including destination. At the same time, a 2021 Mustang GT has a price tag of $38,910 factoring-in the cost of an automatic transmission.
Believe it or not, the Mach-E is already cheaper to finance because Ford Credit is offering 1.9% APR for 60 months. In contrast, the latest version of the Mustang features no special rates whatsoever. Even opting for a 2020 Mustang entails a higher rate of 2.9% for 60 months on most styles, including the GT.
That said, the biggest impact on affordability comes from very different discounts. Even with year-end deals from most major automakers, Mustang deals continue to disappoint. The V8-powered GT remains excluded from standard rebates, in contrast to competitors like the 2021 Chevy Camaro offering GM Employee Pricing.
Meanwhile, the Mach-E will launch with $11,000 in available discounts. In addition to a $7,500 federal tax credit, regional incentives like the $2,000 California Clean Vehicle Rebate and $1,500 Clean Fuel Reward can boost that to $11,000. As a result, the cheapest Mach-E can have an effective cost as low as $32,995.
That's almost $6,000 less than the most affordable Mustang GT. At that point, shoppers looking for Mustang-inspired styling, instant torque, and the versatility of a crossover could find the Mach-E to be a smarter buy in the coming year. The model even offers an exclusive lease-like option called Ford Options Plan.
Current Ford offers end on January 4, 2021.