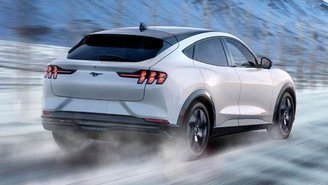 Ford's "lease-like" deal on the 2021 Mustang Mach-E will begin on November 23, according to a letter sent to dealers. At that time, consumers will be able to sign an unusual type of financing contract with their local dealer on the highly-anticipated electric SUV. At the moment, there continues to be no way to lease a Mach-E.
As we reported previously, the Mach-E will be eligible for Ford Options, a type of balloon financing promising lower payments than a traditional loan. Although there are pros & cons, we think the most significant disadvantage is the fact that Ford isn't factoring the value of a $7,500 federal tax credit into Ford Options prices.
Ford says that gives customers more control. However, most EVs pass the credit along to consumers in the form of lease cash. Since not every shopper may be eligible for the full credit on their own, this could be a major drawback that buyers won't encounter compared to some of the great EV lease deals this month.
Fortunately, Ford is already offering rates as low as 0.9% APR for buying the Mach-E (including the higher-performance Mach-E GT). Those looking to lower their payments even have an 84-month financing option. Current Ford lessees are even being offered lease extensions of up to 12 months until the Mach-E's arrival.
For now, we think the holidays could be an interesting time to buy. For example, Ford introduced deferred payments for 90 days across its lineup earlier this week. Surprisingly, a closer look reveals that the Mach-E is eligible for the deal, too. As a result, buyers will be able to enjoy no payments until 2021 on the Mach-E.
Current Ford offers end on January 4.