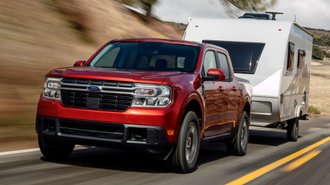 Ford's newest pickup, the 2022 Maverick, debuted this week with financing rates as low as 0% APR. However, a bulletin sent to dealers reveals that the compact truck has lower lease residual values than the Ranger ahead of its fall launch.
At the entry-level, Ford's 36-month residual for the front-wheel-drive Maverick XL comes in at 61% based on Ford's standard 10,500 mile-per-year lease. That's identical to the range-topping Lariat, although the XLT has the highest residual at 63%.
While the Maverick's residual values aren't bad, they're lower than the Ranger. At the moment, the 2021 Ranger SuperCrew has a residual value of 66%. That said, the Maverick will debut with ultra-low lease rates that can actually undercut the Ranger.
Curiously, a closer look finds that the Maverick's residuals are identical whether you choose the standard hybrid engine or the optional 2-liter EcoBoost. That could be surprising if you were expecting one to retain its value better than the other.
We confirmed that quirk yesterday with Ford spokesperson Dawn Mckenzie. We also learned that the cheapest Maverick won't qualify for lease deals. Shoppers already have a variety of deals from which to choose including 84-month financing.
It's still too early to tell whether the Maverick will be a good truck to lease. We think it's worth noting that the Toyota Tacoma still blows away any Ford truck with a 36-month residual value as high as 76% based on offers up in San Francisco.
There are increasing signs that a 24-month lease could offer a sweet spot for Maverick lessees. In addition to offering a near-0% lease rate in some regions, a 2-year deal has residual values as high as 68% in the case of a 4x2 Maverick XLT.
Current Ford offers end on July 6.