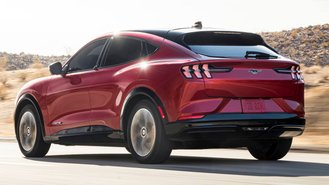 If you're hoping to be among the first to bring home a Ford Mustang Mach-E, the choices may be a bit different from what you're used to. In addition to buying and leasing, Ford is offering a third choice called Ford Options Plan. So what's the best way to buy a 2021 Mach-E? The answer may not be as simple as you think.
Based on a document from Ford Credit recently sent to dealers, Ford Options Plan appears to offer the lowest total cost for consumers eligible for the $7,500 federal EV tax credit. Ford Options is a form of balloon financing offering lower payments than a purchase but, unlike a lease, keeping the vehicle in the buyer's name.
That's an important distinction because it defines who can claim the credit. Ford says balloon financing gives a consumer "control" over the credit. However, the credit's availability depends on a buyer's tax liability and doesn't come as immediate savings, a bigger deal than you might think since the brand doesn't appear to be passing the credit to lessees.
As you can see below, Ford's figures clearly omit the tax credit when leasing.
| | | | |
| --- | --- | --- | --- |
| | Buying | Leasing | Ford Options |
| Down Payment | $4,918 | $4,918 | $4,918 |
| Term | 60 | 36 | 36 |
| Monthly Payment | $774 | $563 | $631 |
| Total Payments | $51,353 | $25,194 | $27,641 |
| Federal Tax Credit | $7,500 | - | $7,500 |
| Total Payments After Tax Credit | $43,853 | $25,194 | $20,141 |
Ford's examples are based on an MSRP of $49,182 and 10% down payment, excluding taxes, fees, and state & local plug-in incentives.
While leasing does appear to offer the lowest possible monthly payment, the tax credit can give Ford Options an over-$5,000 advantage in overall cost. Most EVs pass on the credit in the form of an immediate discount called lease cash. However, that's not shaping up to be the case with the Mustang Mach-E.
Just to help put that into perspective, a Kia Niro EV features over $13,000 in lease cash and can be cheaper than a Toyota Prius with a $199/month lease deal. That said, the Niro is a completely different vehicle. The key takeaway may be that, at the moment, a lessee won't be entitled to any such incentive on the Mach-E.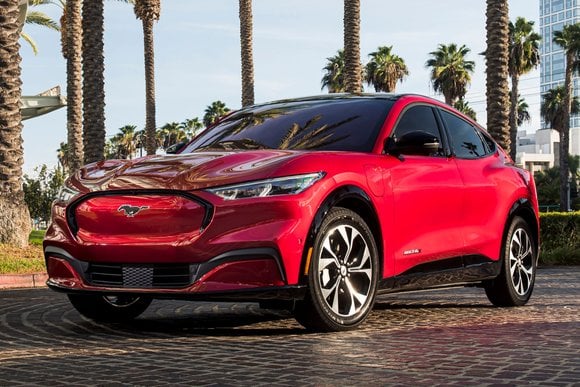 The fact that the examples don't bother to specify the underlying interest rates makes this comparison problematic. That said, we do know that Ford is already offering 60-month rates from 1.9% APR as well as 84-month financing. While the Mach-E's residual values are surprisingly good for an EV, the apparent inability to benefit from the $7,500 tax credit when leasing could create a significant advantage in favor of Ford Options.
This is a set of choices that you won't find on any other Ford model. As of this writing, the brand is still only showing options for buying and Ford Options on its official website. Sadly, it appears to be fairly clear why the company isn't showing the lease option even though it's available. Having choices is usually a good thing, but the quirks involved with the Mach-E could make a consumer's decision quite a bit more complicated.
Ford is having no trouble racking up reservations for the highly-anticipated EV. Considering that the Mach-E will debut with up to $11,000 in potential incentives, we think it could be a compelling value. However, we suggest carefully considering your options if you're looking for the lowest overall cost. You may find yourself having to do a fair amount of math and consulting with a tax professional before arriving at the best decision for you.
Current Ford offers are set to end on March 31, 2021.