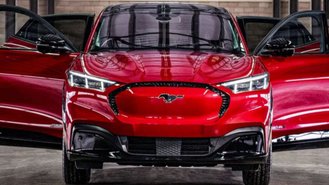 Ford's newest EV, the Mustang Mach-E, will be eligible for a new regional plug-in rebate called the California Clean Fuel Reward. As a result, our analysis finds that the all-new electric vehicle will qualify for up to $11,000 in savings plus low-interest financing here in the Golden State. Here's a quick look at how that will work.
First, all versions of the 2021 Mustang Mach-E qualify for a full $7,500 federal tax credit. According to Ford's official website, the Mach-E is also eligible for a $2,000 Clean Vehicle Rebate (CVRP). Finally, a new $1,500 Clean Fuel Reward has surprisingly few restrictions and can bring the total amount saved as high as $11,000.
If you're planning to buy, Ford Credit is already offering rates as low as 0.9% APR for 48 months. There are longer loan options as well, including an 84-month financing incentive. Although the automaker didn't originally offer the option to lease a Mach-E, we're seeing recent signs that this is actually no longer the case.
While prices for the Mach-E will start at $43,995 with destination, $11,000 in savings could reduce its effective cost to just $32,995. If you find yourself saving money with electricity compared to filling up a traditional SUV with gas, the Mustang Mach-E could end up being a surprisingly good deal under the right circumstances.
Compared to the existing California Clean Vehicle Rebate (CVRP), the Clean Fuel Reward offers far fewer restrictions. Standard 68 kWh and 88 kWh extended range configurations are both eligible for the full $1,500. Having said that, you'll have to find a participating dealer based on the official program website.
For now, we think the latest development is good news for shoppers. Interestingly, a dealer incentive bulletin reveals that the Mach-E is eligible for No Payments For 90 Days as part of a holiday promo ahead of Black Friday. As a result, buyers may be able to save big and benefit from not having to make payments till 2021.