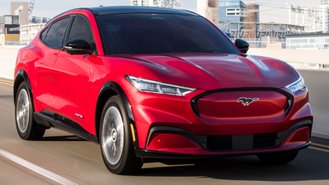 Although residual values for electric cars are often significantly lower than gas models, that won't necessarily be the case with the all-new Mustang Mach-E. In fact, Ford's 1st-Quarter lease residual guide indicates that the Mach-E will actually manage to have a higher residual value than a traditional gas-powered Mustang.
For example, the 2021 Mach-E Select has a 36-month residual value of 56%, while the limited-production First Edition comes in at 58%. Meanwhile, the 2021 Mustang has residuals as low as 48% for the turbocharged convertible variant and no higher than 53% for the V8-powered GT coupe and all-new Mach 1.
To put that into perspective, Chevy's advertised lease on the 2020 Bolt LT is based on a residual of 49%. That said, this isn't an apples-to-apples comparison because the offer on the Bolt is based on a 12,000 mile-per-year lease, while the figures here for the Mach-E are based on Ford's typical limit of 10,500 miles.
Here's a full list of the Mach-E's residual values by trim:
Select Standard Range (RWD): 56%
Select Standard Range (AWD): 56%
California Route 1 Extended Range (RWD): 58%
Premium Standard Range (RWD): 57%
Premium Extended Range (RWD): 58%
Premium Standard Range (AWD): 57%
Premium Extended Range (AWD): 58%
First Edition Extended Range (AWD): 58%
GT Extended Range (AWD): 56%
Even though the Mach-E didn't debut with a lease option right away, it does offer up to $11,000 in incentives in places like California. We've also uncovered early APR deals, plus an 84-month financing option and hidden discounts in the form of Ford Plan Pricing. A lease option finally only became available starting late last year.
Although higher residuals can make a car better to lease, the most affordable way to bring home a Mach-E may be via a "lease-like" option called Ford Options Plan involving balloon financing. The fact that Ford Credit isn't passing along a $7,500 tax credit in the form of lease cash could make the Mach-E terrible to lease.
For reference, a 2021 Hyundai Kona EV comes with at least $7,750 in lease cash from Hyundai Motor Finance here in Southern California before state & local incentives. While Ford's approach could change with time, we think this is an important distinction that could have a major impact on one's cost to lease.
Still, quirks like the fact that a Mach-E can potentially be cheaper to buy than a Mustang V8 could be a pleasant surprise. Despite recent reports of delayed deliveries, we think the sheer variety of purchase options could help make the brand's first 100% electric SUV an exciting (and potentially attainable) prospect.
Current Ford offers end on March 31, 2021.