Despite being $10,000 more expensive on paper, the Ford Mustang Mach-E could end up being a better deal than the recently unveiled 2022 Chevy Bolt EUV. We've already found an odd scenario in which they could have the same cost.
On the surface, the Bolt EUV starts at $33,995 with destination, $10,000 less than the $43,995 MSRP of the cheapest Mach-E. However, a key difference is that, unlike Chevy, Ford's EVs still qualify for a full $7,500 federal tax credit.
While it's not a rebate, the incentive can potentially lower the effective cost of a Mach-E to just $36,495. But that's not all. Dealer incentive bulletins reveal Ford Credit is offering up to a $2,500 discount on its lease-like Ford Options Plan.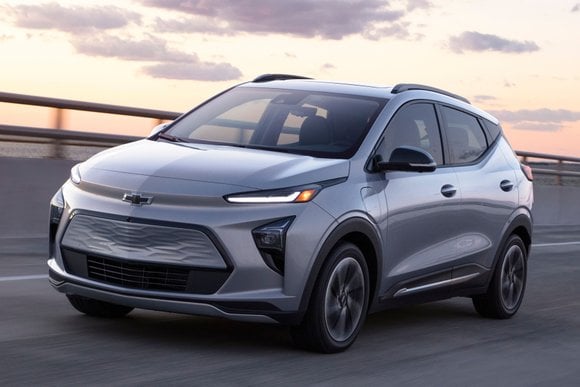 At that point, the cost of a Mach-E can fall to just $33,995. That's the same price as the Bolt EUV. Well, sort of. The truth is that this isn't a fair comparison because Chevy hasn't announced incentives for buying & leasing its newest EV.
That said, we think this could present an interesting choice for anyone deterred by the Mach-E's relatively high MSRP. Other variables like possible dealer markups, different rates, and more could also impact a shopper's final cost.
Unfortunately, Ford and Chevy aren't exactly making things easy for buyers. For example, the Mach-E doesn't offer a typical choice between buying & leasing. Ford is also prohibiting dealers from advertising the Mach-E below MSRP.
Things may be even less clear when it comes to the cheaper 2022 Bolt EV hatchback. Although it's undoubtedly $5,500 less expensive than before due to a price cut, current incentives actually make the 2021 Bolt $4,500 cheaper to buy.
As a result, choosing between these very different EVs may not be as easy as one might think if you're looking to get the most for your money. Stay tuned for CarsDirect's ongoing coverage of the latest offers as info becomes available.