It may be election season, but a heated contest has been brewing between the Chevy Camaro and Ford Mustang with both cars battling it out with some serious deals. Last month, Chevy bested sales of its rival for the first time in 2 years, due in no small part to attractive incentives.
GM's 20% Off Bonus Tag on the Camaro currently ranks as one of the best new car deals, but the automaker has resorted to creative tactics like $2,000 off for Mustang owners. Ford isn't standing still, however— yesterday, the Blue Oval rolled out its own conquest bonus targeting Camaro owners.
So what does Ford's new deal involve? Who's eligible? And how much can you expect to save this month on a Mustang? Here's what you need to know.
Deal Details
Beginning October 13, Ford is offering a $2,000 conquest bonus targeting Camaro owners toward the purchase or lease of any 2016 Mustang.
To be eligible, you'll need to currently own or lease any 1995 or newer Camaro. The deal doesn't require a trade-in of your current car and can be transferred to members of the same household.
All versions of the Mustang are eligible, with the sole exclusion being the hard-to-find Shelby GT350. The deal is currently set to expire Monday, October 31 and is available nationally.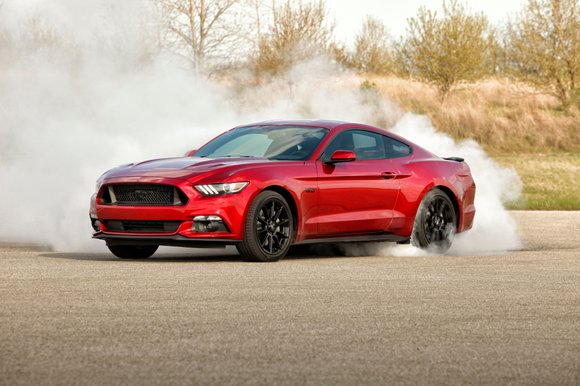 Shoppers can combine the offer with most other incentives like this month's $750 rebate for as much as $2,750 in potential savings before dealer discounts.
Alternatively, the $2,000 bonus can be combined with low-interest financing from 0% for 36 months, 0.9% for 48 months, or 1.9% for 60 months.
Since leases are compatible with the offer, this can equate to a seriously attractive deal. This month, the 2016 Mustang EcoBoost can be leased from $309 for 36 months with $1,999 at signing. After applying the bonus, this is probably the closest you're bound to get to a zero-down lease on this model.
Is this turning into a slugfest shoppers can take advantage of this fall? It's certainly looking that way. For a fun look at some other deal match-ups, check out our Pre-Election New Car Deal Battle.
Compare Cars: 2016 Chevy Camaro vs. 2016 Ford Mustang »
For an easy way to find the best deals, visit the CarsDirect Deals Page for the latest deal-related news and analyses. Browse expert buying advice updated monthly on nearly 300 models for insider insights you'll only find at CarsDirect. Be sure to sign up for email alerts to have the latest deals delivered straight to your inbox.
Offers listed here are based on a resident in Southern California and may be subject to change. Most lease offers are for well-qualified buyers based on available credit and exclude tax, license, title, registration, document fees and insurance. Not all buyers may qualify. Please check with your CarsDirect Trusted Dealer to confirm details and eligibility.