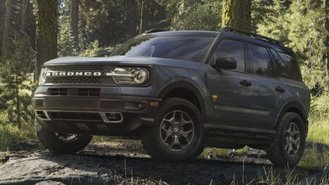 Ford will soon begin offering special incentives for shoppers ordering a 2023 vehicle. Buyers with a 2023 Ford retail order may be eligible for a new rate lock program and lease deal as part of the brand's Summer Supercharged Sales Event. Here's a look at what's available with these 2023 Ford custom order deals.
According to a bulletin sent to Ford dealers today, select models will qualify for a Retail Order Rate Lock Low APR Private Offer once order banks open. Rates start at 2.9% APR for 60 months, with 72 and 84-month financing at 3.9% and 4.9% APR. In some cases, these are only slightly higher than 2022 Ford interest rates.
For example, the 2022 Ford F-150 has a 60-month rate of 1.9% APR. That's just 1% lower than the 2023 F-150, which will be available to order starting on Monday. On August 2nd, order banks for the 2023 Bronco Sport, Edge, Explorer, Maverick (gas), and Ranger will open too, and these will qualify for the exact same deal.
In addition to the 2023 rate lock incentive, Ford will offer a lease deal. If you're looking to lease rather than buy, Ford will begin offering $500 in Retail Order RCL Cash on just about every one of the models listed above. The main exception will be the 2023 Maverick, which is specifically excluded from the lease cash offer.
Both programs are set to end on September 5th and have many of the same exclusions. For example, F-150 Raptors, F-150 Tremors, and the F-150 Lightning are all excluded. Ford stopped taking 2022 F-150 Lightning orders back in early April, and the all-electric pickup truck could be sold out for quite some time.
There may be some good reasons to lock-in your rate. The fine print states that Ford Credit "is expanding the credit approval time period from 90 to 180 days." The letter adds that the 6-month rate lock is meant "to provide customers with peace of mind knowing that financing has been secured" at the time of an order.
Finally, Ford says "The rate obtained at application will remained (sic) locked assuming there are no material changes to the application and/or deal structure." This could provide buyers with peace of mind considering Federal Reserve interest rate hikes are expected to continue and may become more drastic this month.
Ford custom order incentives are nothing new and started to significantly ramp up a year ago when the company doubled its discount to $1,000 on ordered cars and trucks. Other car companies have followed suit with new car price protection programs, some involving extended credit approvals due to an inventory shortage.