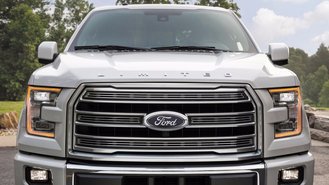 Last year, the F-150 hit a landmark as America's best-selling pickup for 40 years. Ford Motor Company appears to be starting 2017 in a fairly aggressive stance, with a new $4,000 loyalty bonus targeting current F-150 owners in select states. This far outpaces any type of loyalty discount in recent memory on any car or truck. So which F-150s are eligible? What do you need to do to get the deal? And is this really any good?
Here's what you need to know.
Big loyalty bonus
Beginning January 4, Ford began offering a whopping $4,000 loyalty bonus for current F-150 owners. The incentive is being offered in key truck states like Texas and select regions like Kansas City and Memphis on XL and XLT versions of the 2016 F-150, F-250 and F-350.
To be eligible, you'll need to currently own or lease a 1995 or newer F-150 or Super Duty. You don't need to trade-in your current truck, and the offer can be transferred between members of the same household. You also don't need to be the original owner.
Curiously, the deal is set to expire February 14— just in time for Valentine's Day.
In other parts of the country, there's a less aggressive bonus worth $750. However, one bright spot is that this particular deal doesn't require you to come from another F-150. Instead, the $750 offer can be claimed by anyone with any 1995 or newer Ford or Lincoln vehicle.
In Houston, Ford is currently advertising up to $11,900 in savings off the 2016 F-150 XLT SuperCrew with EcoBoost and Luxury Chrome or Sport Package. However, shoppers should be aware that to get to this number, Ford is making a number of assumptions.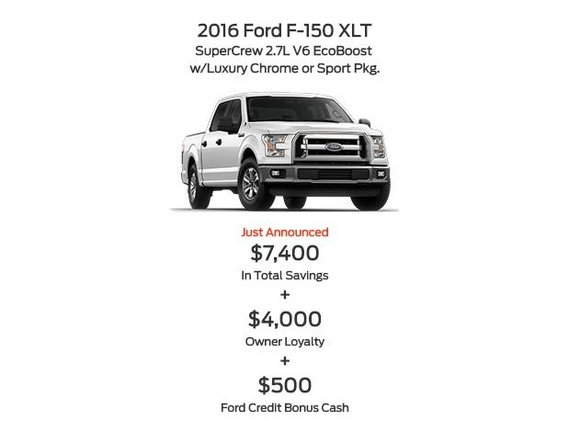 First, the automaker is factoring a $4,100 "average dealer discount." There's also a $2,000 built-in discount when selecting the Luxury Chrome or Sport Package, plus a $300 discount for opting for the 2.7-liter EcoBoost engine.
Based on our analysis, there appears to be no guarantee you'll achieve the average savings value, and this seems to primarily benefit shoppers willing to purchase the precise configuration advertised. It's reminiscent of headlines back in 2015 touting $10,000 in cash on the F-150.
We seem to have gone quite a bit farther than that.
Is this a taste of what to expect as far as truck deals in 2017? Possibly. GM is currently offering Supplier Pricing and a $1,000 trade-in bonus on its flagship 2017 Silverado truck this month as an early effort to spur sales following weak sales last year.
For the latest pricing and deal insights, be sure to check out our Deals hub.