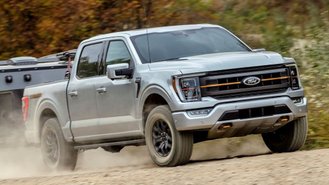 Those affected by the devastating impacts of Hurricane Ida may be eligible for disaster relief from Ford Motor Company. According to a bulletin sent yesterday to dealers, the American automaker is now offering Ford Employee Pricing to those in affected states looking to replace a storm-damaged car, truck, or SUV.
The program extends Ford A-Plan pricing to "State of Louisiana Residents that have experienced verified total loss or damage due to the Hurricane Ida on August 26th, 2021." A-Plan offers the best possible discount among different types of Ford Plan Pricing, with pricing well below invoice on a wide range of models.
Most Ford and Lincoln models are eligible for assistance excluding specialty models like the F-150 Raptor. A closer look finds that in-demand models like the Bronco Sport, Mustang Mach-E, and new Maverick truck are eligible. Select 2022-model-year vehicles qualify, which may be helpful given an inventory shortage.
To get the discount, you'll need to show your insurance claim form to a participating dealer before the program ends on January 3rd. Dealers appear to have the ability to opt-out, so you may need to find one willing to extend the discount. Given the markups and high prices that we've been seeing, your results could vary.
Confusingly, while Ford's official bulletin says the offer is limited to Louisiana, it also says the program is available to residents of Atlanta, Houston, Memphis, and Orlando. If you're looking to take advantage of this offer, we recommend checking with your local Ford dealers for complete details and to confirm eligibility.
Ford incentives currently heavily favor trade-in assistance after nearly every rebate was eliminated in June. As a result, this may be one of the best ways for buyers without a trade-in to replace their storm-damaged vehicles. In a recent surprise, Ford slashed F-150 interest rates to 0% APR for 72 months for Labor Day.