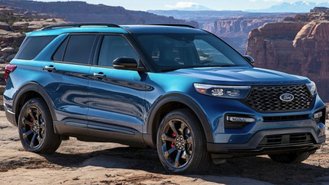 Ford is paying customers to wait because it doesn't have enough cars to sell. According to a letter sent to dealers, the automaker is doubling the value of an incentive for vehicles not in stock amid a growing inventory shortage that has been wreaking havoc on car prices.
Until recently, Ford offered a $500 incentive called the Retail Order Incentive Program to help make up for the fact that dealers lacked popular cars & trucks. Now, the automaker is offering a $1,000 "Retail Order Bonus Cash Certificate" on most vehicle orders through July 6.
As before, most models are eligible for Ford's order discount, including vehicles like the Ford F-150 pickup and Bronco Sport crossover. However, a closer look finds that newer vehicles like the Ford Mustang Mach-E as well as the highly anticipated Ford Bronco are excluded.
If you've already placed an order, Ford says the new incentive is actually available retroactively on orders dating back to April 1. Behind the scenes, Ford has also been giving dealers up to $250 in dealer cash toward vehicle orders. That's set to continue through June.
With fewer cars to buy, prices have risen as a result. Last month, over half a dozen car brands raised interest rates or cut discounts. With dealer profits on the rise, the lack of attention-grabbing deals has created an unprecedented environment for in-market shoppers.
Production delays have had wide-ranging effects. In a particularly unusual case, Ford paid Mach-E buyers in New Jersey $5,000 for missing out on a local plug-in rebate. Some brands have even resorted to offering to lock-in current rebates for added peace of mind.