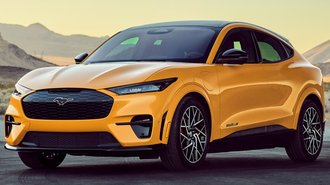 The price to bring home Ford's newest model just got a little more affordable. While it's no secret that the automaker cut 2021 Mustang Mach-E prices late last year, a recent change in residual values has lowered the cost of a lease-like buying option called Ford Options Plan ahead of this year's Presidents' Day holiday.
At the entry-level, the Mach-E Select is now listed at $565 for 36 months with $4,290 due at signing based on 10,500 miles per year. That's $24/month cheaper than the company's initial offer on the Mustang-inspired EV. Interestingly, dealer incentive bulletins reveal how Ford has managed to lower the Mach-E's price.
Rather than using discounts or a better interest rate, a higher residual value is largely to thank. On a 36-month contract, the configuration listed above benefits from a 2% boost in residual from 42% to 44%. That said, certain styles are only marginally better, with just a 1% increase on the limited-production First Edition.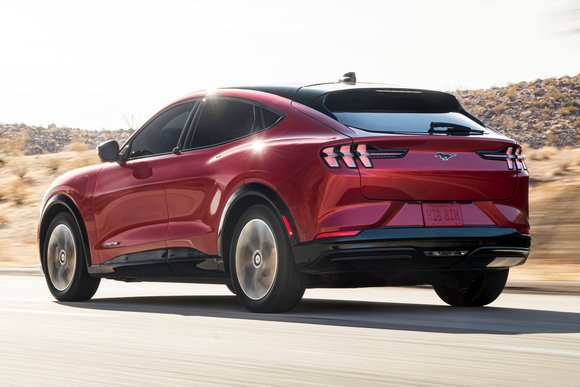 While a lower price is a positive development, it bears reminding that this isn't a traditional lease. As we've noted before, this is actually a balloon financing offer featuring a lease-like payment with the flexibility to buy. Even though the Mach-E has a high residual for an EV, the deal doesn't reflect a $7,500 tax credit.
That represents a major disadvantage for consumers expecting to get a great deal on a lease. Unlike just about every other EV, opting for leasing or balloon financing on a Mach-E won't automatically get you the tax credit. That puts the onus on shoppers to find out if they even qualify for the full amount to begin with.
We recently did a comparison of Mach-E costs for buying vs. leasing vs. balloon financing. If getting the lowest payment is your top priority, the balloon option may be the best bet because it's the only way to get a $2,500 "Ford Options Retail Bonus" from Ford Credit. The bonus is totally separate from the tax credit.
Considering the Mach-E features up to $11,000 in plug-in incentives, it can actually end up being cheaper than a V8 Mustang under some circumstances.
Current Ford offers end on March 31, 2021. Examples listed here are based on figures in California.