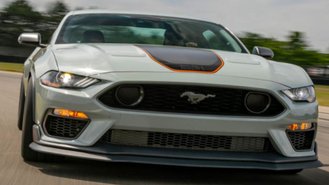 Ford raised prices on just about every one of its vehicles Tuesday, according to a letter sent to dealers. The price increases affect 11 models, ranging from the budget-priced EcoSport to the thunderous Mustang Mach 1. The move comes as Americans grapple with higher car prices amid a worsening inventory shortage.
Although it's common to see price increases over the course of a given year, Ford's changes may be magnified by the fact that Ford quietly eliminated rebates yesterday in an effort to simplify its incentives at the request of dealers. MSRPs increased by up to $680 and largely focus on 2021 model year vehicles.
Here's a roundup of the price hikes, which can vary depending on trim.
Noticeably (and thankfully) absent from the list are the F-150, Mustang Mach-E, as well as the Bronco. While it's tempting to call the above changes "routine," the fact is that Ford has raised prices before on some of these vehicles. For example, 2021 Edge prices actually increased by up to $1,000 just on April 1 of this year.
It's a similar story with the Bronco Sport, which has enjoyed strong interest from buyers but has suffered from some severe dealer markups as a result. Demand grew so strong that, earlier this year, Ford removed restrictions on selling so-called "mannequin" models originally meant for display purposes on dealership lots.
On the luxury side, Lincoln also raised prices on much of its 2021 lineup, with the largest increase being a $905 price hike on the 2022 Aviator Reserve. Apart from market conditions, higher MSRPs and fundamental changes in incentives could create a challenging situation for car shoppers simply in search of a fair price.
Due to the sparse nature of dealer inventory, Ford recently began paying customers to wait with a $1,000 discount on custom-ordered vehicles. That's double the previous amount of $500 and the largest incentive of this type that we've ever seen.