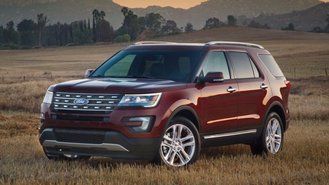 Everyone loves to save money, and Ford loves to cater to shoppers with an array of cashback deals. However, what happens when you aren't able to save the amount advertised?
A new incentive called Ford Smart Bonus Cash could result in that kind of situation. So what does the deal involve? And why is it worth knowing about? Here's what you need to know.
Deal info
From May 3, Ford is offering $1,000 Smart Bonus Cash on select models. The deal is available on the 2016 Focus and Fusion (Gas) sedans, as well as the Edge, Escape and Explorer crossovers. It's also available on the 2015 Edge, which can still be found in limited numbers.
The offer is a bit different when it comes to leases. The amount is considerably less— $250 on top of other lease discounts. The program is currently set to expire May 31.
Sounds pretty good, right? Well, there's a catch.
Ford's website states in fine print: "Smart Bonus Cash vehicle supply is limited. See dealer for availability." However, according to the actual program bulletin, only the oldest 10% of inventory is eligible for the discount.
Looking closer, every applicable lease on Ford's website factors the discount even though most inventory doesn't qualify. Shoppers looking to buy arguably get the worst of it— a $1,000 price difference is by no means small even when spending over $30,000 on a car.
Here's an example of how the incentive is presented on Ford's website. This is for a 2016 Ford Escape in Los Angeles.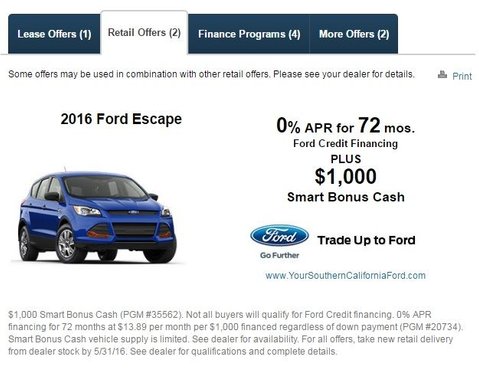 What this means for shoppers
Tactics like this aren't entirely uncommon in the automotive industry. GM does this all the time with its so-called Bonus Tag offers, with thousands in potential savings and fine print explaining that not all vehicles are eligible.
Ford's decision to adopt this tactic is a bit out of character based on what we typically see. Since it's impossible for shoppers to know which inventory is eligible, comparison shopping could yield large price differences.
If you're shopping for an affected Ford model, we recommend setting expectations in advance. Your local dealer will be able to tell you if a car is eligible in their computer system based on the VIN number.