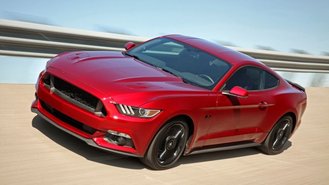 Early next month, Ford will launch a special year-end sale called the Friends & Neighbors Pricing Event. It will involve hassle-free discounted pricing previously offered only through employees and groups that do business with Ford. But is the pricing any good? Should you rush out and buy right away? And what's the catch? Here's what you need to know.
Deal overview
Ford will run the promotion on all qualifying 2014-2016 models from November 3 to January 4, 2016. It will essentially open the automaker's existing "Friends & Neighbors X-Plan" up to the public. The program will be compatible with advertised purchase and lease offers and will be heavily advertised, pitched as insider pricing for everyone.
The pricing is based on a formula meant to offer a modest upfront discount to make the buying process easier. There will be certain exceptions, like the new Mustang Shelby GT350, Mustang 50th Anniversary Edition, and certain commercial trucks.
Ford is letting dealers choose whether or not to participate, but it's giving special incentives to dealers that do. This consists of money to support advertising as well as a special commission from the manufacturer.
Is the pricing any good?
The formula for the pricing is relatively simple: 0.4% off the configured invoice price plus a $275 program fee. The actual savings amount will vary based on optional equipment. Participating dealers will be able to sell below that price if necessary, but will be forbidden from going above it.
While the price sounds appealing, it's nowhere near as impressive as Ford's employee pricing. Also called A-Plan, it takes the invoice amount, subtracts both the dealer holdback and regional advertising fee, and adds a $275 program fee.
Learn more about Ford Plan Pricing>>
Should you wait to buy?
While Friends & Neighbors pricing will aim to make things simple for shoppers, it won't replace traditional promotions. In fact, there will be four distinct periods around which shoppers will likely see spikes or dips in discounts: 1) the initial program start, 2) Black Friday, 3) the holidays, and 4) the last stretch leading up to January 4.
This means it may not be necessary to pull the trigger until a holiday incentive is released. Based on what we typically see from Ford, this generally happens right before a holiday and can consist of deals like trade-in assistance and other bonuses worth as much as an additional $1,000 off.
Learn more about holiday car buying>>
What's the catch?
On the surface, Ford is investing a lot into the promotion to gain market share and get consumers excited about buying. But what most shoppers probably won't know is that Ford recently raised invoice prices on hundreds of vehicle options by approximately 5.9% to as much as 7%.
The differences are subtle, like a $96 increase on the vista roof for the 2015 Ford Flex, a 6.9% change. On a 2015 Ford F-150 King Ranch, the optional Luxury Package has gone up $185 to $3,331- a 5.9% increase. This may not seem like much but the differences will add up, especially on full-size trucks that can have thousands in extra equipment.
The increases won't be obvious because the sticker prices are staying the same. Since Plan pricing is based on invoice values, the changes will have a direct impact on real-world prices. While we don't think this should stop shoppers from considering the merits of the promotion, it's worth knowing a bit more about what's really going on.
Learn more about the Ford F-150>>
Our take
Although the benefits could be partially offset by higher behind-the-scenes prices, shoppers may appreciate a different purchase experience involving immediate, upfront savings. Knowing that holiday incentives may yield particularly impressive deals, it may pay to do your shopping in advance and then swoop in when the right deal reveals itself.
For an easy way to find the best deals, visit the CarsDirect Deals Page for the latest deal-related news and analyses. Browse expert buying advice updated monthly on nearly 300 models for insider insights you'll only find at CarsDirect. Be sure to sign up for email alerts to have the latest deals delivered straight to your inbox.
Offers listed here are based on a resident in Southern California and may be subject to change. Most lease offers are for well-qualified buyers based on available credit and exclude tax, license, title, registration, document fees and insurance. Not all buyers may qualify. Please check with your CarsDirect Trusted Dealer to confirm details and eligibility.