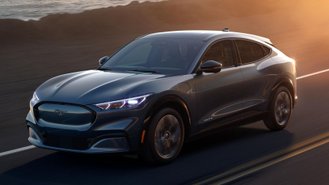 Update (9/24/20): We've confirmed that Ford is not offering a lease option on the Mach-E. Instead, shoppers are being given a balloon financing option called Ford Options Plan. See our in-depth analysis for details on some of its pros & cons. The below article incorrectly characterized the program as a lease. We've updated the text accordingly.
Even though the new all-electric Mustang Mach-E isn't due to begin arriving until later this year, Ford has already introduced the vehicle's first APR deals and promotional lease rates. We're also seeing a mysterious new rebate worth up to $2,500. Here's a look at what's available and some catches worth knowing about.
According to incentive bulletins sent to dealers Thursday, the Mach-E is now eligible for 0.9% APR for up to 48 months through Ford Credit. Opting for a 60-month loan brings the rate to 1.9%. There are also 72 and 75-month options at 3.9% and 4.9%, respectively. However, there are a couple of important limitations.
First, this is a regional offer that's only available in 17 areas: Atlanta, Boston, Chicago, Charlotte, Dallas, Denver, Houston, Kansas City, Los Angeles, Memphis, New York, Orlando, Philadelphia, Phoenix, San Francisco, Seattle, and Washington. Second, not all versions of the Mach-E are eligible for the lowest rates.
At the moment, the only styles that qualify include the Mach-E Select (due in early 2021), Mach-E Premium (due later this year), and California Route 1 Edition (due early 2021). In contrast, the Mach-E GT (due next spring) is specifically excluded. The GT promises more power and a 0-60 mph sprint in under 4 seconds.
If you're planning to lease, the rates aren't quite as good. For example, the Mach-E's featured rate is equivalent to 2.25% APR with 36 and 48-month options. However, unlike a traditional lease, the rates actually correspond to another loan option with similarities to leasing called balloon financing. We see no indications that Ford will add a lease option anytime soon.
Surprisingly, we're also seeing a Mach-E rebate worth $1,000 in many parts of the country that Ford is calling "Select Vehicles Ford Options Retail Bonus Cash." While we don't know yet what makes it so "select", it appears to only be available when financing. We've reached out to a Ford spokesperson for more details.
What's more interesting is that Ford is offering a larger $2,500 discount in a handful of 6 regions: Boston, Los Angeles, New York, Philadelphia, Pittsburgh, and San Francisco. At this point, what we'd really like to know is whether or not Ford Credit is planning to pass along the full $7,500 federal tax credit on leases.
With other plug-in incentives, shoppers could find the Mach-E to be a good deal. After all, competitors like the Tesla Model Y are no longer eligible for a federal tax credit as of earlier this year. Late December, documents revealed that the Mach-E would even qualify for Ford Plan Pricing for employees and affiliated companies.
We think the latest changes are clear signs that Ford wants to hit the ground running. Mach-E prices start at $44,995 and early online reservations have apparently been a success. The vehicle will debut the brand's latest driver assistance technology and could prove to be one of this year's most hotly-anticipated vehicles.