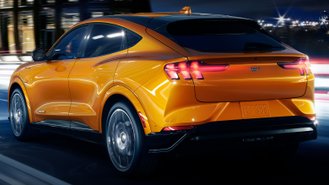 Update (11/19/20): We've since learned that Ford Options Plan will officially start on November 23. In addition, Ford Credit released lease rates on November 17, revealing that shoppers will in fact have the ability to lease the Mach-E.
Update (9/29/20): After this article was published, Ford reached out to us in order to not completely rule-out Mach-E leases at some point in the future, adding "in terms of a more standard lease offering, we will announce in due course."
Those planning to lease the upcoming Mustang Mach-E later this year could be in for a surprise. Unlike almost every EV on the market, our analysis finds that consumers will be unable to lease the Mach-E. Instead, Ford Credit is offering an unusual-sounding program called Ford Options Plan involving balloon financing.
If you're wondering what balloon financing is, you're probably not alone. In an email this afternoon, a company spokesperson confirmed that Ford Options isn't a lease but rather a "lease-like offering." The company's website promises lower monthly payments and more flexibility compared to a loan for the same term.
Based on our analysis, this appears to largely be accurate. The 2021 Mach-E Select is listed at $604 for 36 months based on $4,390 down, 2.25% APR, and 10,500 miles per year of driving. Meanwhile, a 36-month loan based on a promotional rate of 0.9% comes out to $1,073, $469/month more than the Ford Options Plan.
While balloon financing will technically be cheaper in that scenario, it's an odd comparison to make. Given that the average auto loan can top 73 months for some buyers, a 60-month loan at Ford's promotional rate of 1.9% APR would come out to $666/month, helping to bridge the gap in price but lacking the same flexibility.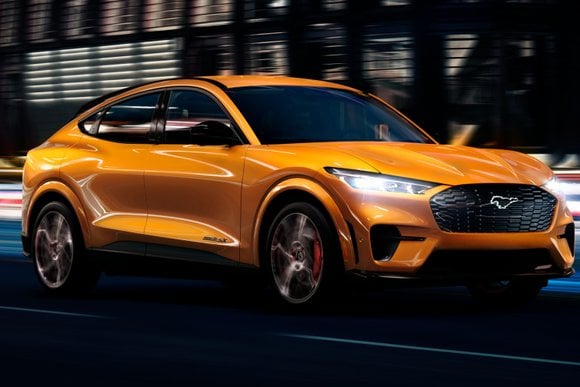 The strength of a balloon loan comes from the fact that a lower payment comes at the cost of a large "balloon payment" at the end of the contract. In the case of a Mach-E Select listed above, that comes out to $18,898. Unlike a traditional purchase, buyers have the option to either buy the vehicle or return it to Ford Credit.
We've also identified a big reason to think twice about a balloon loan. Unlike most EV leases, Ford isn't factoring the value of the $7,500 federal tax credit. To put that into perspective, nearly every vehicle still eligible for the incentive passes it along to consumers in the form of "lease cash" through captive financing companies.
Ford is positioning that as a good thing. In a video explaining how the program works, Ford says this "gives you control of the tax credit," somewhat glossing over the fact that not every buyer will qualify for the full amount. The fine print states "the amount of your tax saving will depend on your individual tax circumstances."
As a result, Mach-E shoppers expecting to see a lease option with substantial upfront savings will likely be disappointed. With $0 down, a Mach-E Select with balloon financing comes out to $734/month. Believe it or not, that's more than 4x more expensive than Chevy's cheapest lease on the 2020 Bolt EV this month.
Buyers used to leasing may find tax implications given that some states base theirs on payments rather than the total amount. Ford also limits balloon financing to 36 or 48-months compared to 84 months with a regular loan. Finally, Ford Options Plan is unavailable in Nevada, New Hampshire, North Carolina, and Washington D.C.
While EV deals abound at the moment, the only real alternatives at the moment for getting a deal on the Mach-E involve Ford Plan Pricing, a conventional car loan, or an 84-month financing option. Stay tuned for our ongoing coverage of deals on the Mustang Mach-E and ways to save money on the highly-anticipated EV.