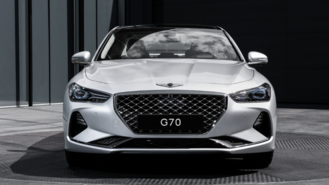 Shoppers hoping to be one of the first to snag a 2019 Genesis G70 have a handful of deals from which to choose. Offers center on a $359/month lease that makes the Korean automaker's newest sport sedan cheaper to lease than a BMW. But you may end up paying more if you aren't careful.
According to the latest leasing bulletins, the Genesis G70 2.0T (MSRP $35,895) is listed at $359 for 36 months with $2,699 due at signing. That gets you a rear-wheel drive base trim with an automatic transmission and a 2.0-liter turbocharged engine making 252 hp.
The offer equates to an effective cost of $434/month and comes with an allowance of 10,000 miles of driving per year. At that price, the G70 is $17/month cheaper to lease than a 2018 BMW 320i ($451) and $20 less than a 2019 Mercedes-Benz CLA250 ($454). Although that sounds pretty good, there's a catch.
That's because the price includes a discount you may not be eligible for. As it turns out, the "amount due at signing" includes a $1,000 bonus that's only available to current Genesis owners or customers coming from a vehicle from any of the following brands: Acura, Alfa Romeo, Aston Martin, Audi, Bentley, BMW, Cadillac, Infiniti, Jaguar, Lexus, Lincoln, Mercedes-Benz, Maserati, Porsche, Rolls-Royce, Tesla and Volvo.
If you don't qualify, the amount due at signing rises to $3,699, and, at $462/month, makes the G70 more expensive than both the 3-Series and CLA.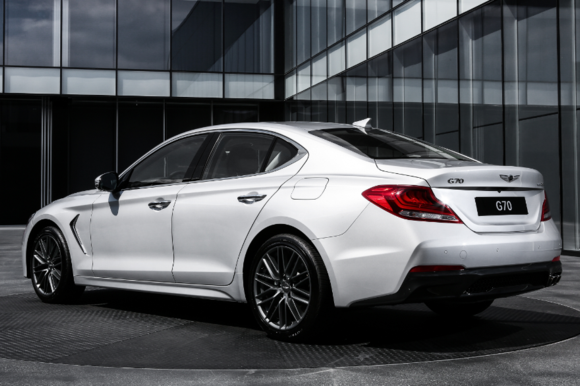 So is the G70 a bad car to lease? Not exactly, but there aren't really any major lease discounts available to help drive down the price yet. In contrast, certain versions of the Kia Stinger are eligible for up to $6,100 in savings when leasing. This month, Kia's lease on the Stinger Turbo has an effective cost of just $396/month.
If you're looking to buy, the Stinger offers a far better deal. In addition to 0.9% APR for 72 months, Kia is offering a $3,000 conquest bonus on GT styles ($1,500 on the 2.0T), plus a $1,000 bonus on all-wheel drive models. The G70 is only eligible for 1.9% APR for 60 months (2.9% for 72) plus the $1,000 discount mentioned earlier.
Looking to get more for your money? The Infiniti Q50 3.0T Sport (MSRP $41,645) is $5,700 more expensive than the G70 but ends up being $9/month cheaper to lease because of better discounts ($425 vs. $434). For less cash, you'll be getting features like leather seats and a more powerful 300 hp V6.