The cost to lease a 2021 Genesis GV80 remains extremely high nearly four months after the first specials were announced. In fact, unadvertised incentive bulletins reveal that the GV80 can be significantly more expensive than the Lexus RX as well as the redesigned Acura MDX and remains a pretty awful vehicle to lease.
As before, the GV80 is listed at $589 for 36 months with $5,499 at signing, an effective cost of $742/month. While the GV80 competes with established rivals, it's up to $152 (per month!) pricier than the Lexus RX. Here in California, the RX 350L is listed at $479 for 36 months with $3,999 at signing, or $590/month.
Just to put that into perspective, the RX lease is based on an MSRP of $57,435, a little over $7,500 more than the $49,925 sticker price of the GV80. Believe it or not, a 2022 Acura MDX with all-wheel-drive actually has the same MSRP as the cheapest GV80 but manages to be $142/month less expensive to lease.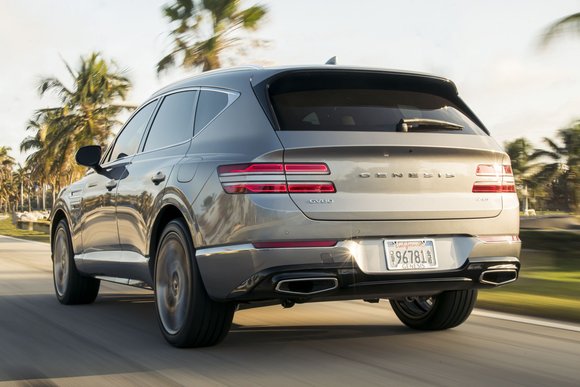 So why is the GV80 bad to lease? The deal in question is based on a lease rate equal to 3.7% and has no discounts to drive down the price. Meanwhile, the RX deal is based on a rate of just 0.2% and includes $2,000 in lease cash. 36-month residual values for both vehicles actually happen to be identical at 57%.
In contrast, the first deals on the new MDX are quite good. The cheapest 2022 MDX lease starts at $439 for 36 months with $3,999 at signing, or $550/month when factoring a $1,000 loyalty discount or conquest bonus for switching brands. While the lease rate is 2.7%, a 65% residual value helps make this a good deal.
We continue to consider the GV80 very expensive to lease. That said, the SUV does feature an impressive array of standard safety features and tech. The GV80 is already being credited for potentially helping save the life of famed professional golfer Tiger Woods in a recent car crash here in Los Angeles.