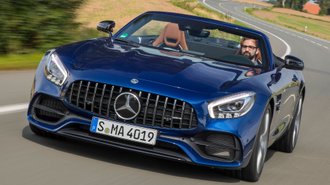 While a thoughtful card is always a nice gesture, there may be a way for you to help get Dad a big discount on his next car, truck, or SUV. That's because manufacturers offer incentives like loyalty discounts and rebates to get people to switch brands. The best part? These can often be transferred to family members.
For example, Mazda is offering a $1,500 loyalty reward across its entire lineup. Even better, you can stack the discount with 0% financing for 60 months on any model. You can also defer your first payment for up to 90 days as part of its response to COVID-19. To qualify, just show proof that you own or lease any Mazda.
That said, an important restriction is that you must live at the same address. If you're eligible, this could be a great way to save on vehicles like the 2020 MX-5 Miata. Current Mazda deals for buying & leasing are very good at the moment. For leases, Mazda is even offering to waive up to $500 off your first payment.
For something more practical, Acura is offering a whopping $3,000 loyalty bonus on all versions of the 2020 RDX. You can even combine the offer with a $3,125 lease discount for over $6,100 in potential savings. That's one of the best deals on any Acura. To qualify, you'll have to own any 2010-or-newer Acura.
If your Dad has more expensive tastes, Mercedes is offering a loyalty discount of anywhere from $1,000 to $5,000 when you take out a loan or lease through Mercedes-Benz Financial Services. You can actually more than double that by taking advantage of aggressive manufacturer-to-dealer incentives in June.
For example, the 2020 AMG GT qualifies for a $5,000 loyalty bonus on finance contracts plus a $7,500 dealer cash incentive. Most 2-door styles are eligible with the exception of the range-topping GT R. With $12,500 in potential savings, Dad may find this a great way to make a dent in the car's $100,000 starting price.
Other brands offer discounts, too. For example, Cadillac offers up to a $2,000 bonus when coming from a non-GM lease while Ford offers up to $1,000 when sticking with the same brand on a lease. Even Volvo offers a $2,000 loyalty discount when buying or $1,500 when leasing in many parts of the country.
We're partial to Honda's $1,000 discount on the 2020 Pilot when coming from a competing brand. Based on our analysis, the Pilot LX can be as little as just $12/month more to lease than a CR-V because of favorable incentives. Unsurprisingly, we consider it one of the best 4th of July SUV deals right now.