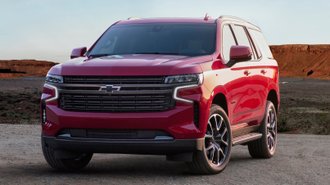 The chip shortage continues to make things difficult for both consumers and automakers. In response to a limited supply of chips, automakers continue to adjust production of vehicles, cut incentives, and tweak pricing to account for car shortages. In a new move, which we saw from Nissan and Infiniti earlier this year, General Motors will reportedly stop working with non-GM dealers on off-lease vehicle payoffs starting next month.
According to a report by Automotive News, GM is making the decision because of the chip shortage. A GM spokesperson told the outlet that the decision is "to better support our GM dealers through the current economic environment and the challenges they're encountering sourcing quality pre-owned vehicles."
Starting on July 1 and continuing until the end of the year, only GM dealerships will be able to work with current GM lessees if they're looking to trade their vehicles in for a different one. This, as the GM spokesperson stated, will greatly help dealers get much-needed used vehicles to resell. GM will reassess the decision on off-lease buyouts at the end of the year, said the spokesperson.
While the decision will help GM dealers, it could be a large issue for consumers. Dealers and online automobile retailers are offering top-dollar for used cars at the moment, so consumers looking to have a different brand buy out their lease to take advantage of high used car prices will find GM's new move to be tricky to work around.
Nissan and Infiniti did something similar earlier this May to "encourage traffic" and "boost pre-owned inventory." The Japanese automakers didn't provide an official timeline for how long its limits will be in place. We expect to see more automakers introduce similar limits as the chip shortage continues to drag on.