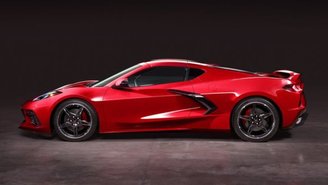 Chevy is offering price protection to Corvette buyers amid an ongoing inventory shortage. According to a bulletin sent to dealers, the incentive involves a price protection credit to offset possible mid-year price increases. The deal may offer some assurance to customers still awaiting the extremely hard-to-find sports car.
Through January 3rd, just about every GM model is eligible for a special Price Protection Program. Based on the fine print, the incentive can be applied toward vehicles built on or after the effective date of a price hike. To take advantage of it, buyers will need to have placed an order before new pricing goes into effect.
Fortunately, there's no word yet on a Corvette price increase. While manufacturer price hikes are common from year-to-year, shoppers may not know that mid-year price increases can happen at any time. 2022 Corvette pricing starts at $62,195, $1,200 more than the sold-out 2021 model because of a change in equipment.
With a great deal of uncertainty surrounding delivery dates and production schedules, the program could be particularly helpful for Corvette buyers looking to lock-in current MSRPs. Other brands have been paying buyers to wait, sometimes with interest rate-lock offers and cash incentives on factory-ordered cars.
Soon after the 2023 Corvette was revealed, early Z06 reservation details began to emerge. One dealer even asked people to stop calling due to its enormous backlog of open 2022 Corvette orders. Next year, the Z06 promises to offer the most powerful naturally-aspirated production V8 with an output of 670 horsepower.
If you're in the market for a Corvette, expect to pay a premium. Base models remain practically impossible to find and there continue to be significant dealer markups. Sadly, shoppers may find that simply being able to find a dealer willing to sell the extremely sought-after car at MSRP could be a chore in itself.