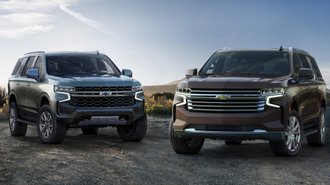 If you've been looking to get a deal on one of GM's newest SUVs, you may notice a lack of information online from Chevy, GMC, and Cadillac. We think we may know why. In one of the most extreme cases, our analysis finds that the redesigned GMC Yukon can be almost as expensive as a nearly $100,000 Lexus.
For example, the 2021 Yukon Denali is listed at $699 for 39 months with $9,279 at signing. That's based on an MSRP of $69,695 for the 4x2 and comes out to an effective cost of $937/month. The Denali XL ($72,295) is listed at $749 with $10,249 at signing, or $1,012/month. At that price, you could get a nice upgrade.
Here in California, the 2021 Lexus LX 570 is listed at $859 for 36 months with $5,999 at signing. The LX has an MSRP of $98,610 for the three-row configuration and has an effective cost of $1,026/month. That makes the LX over $26,000 pricier on paper but only $14/month more expensive to lease before taxes & fees.
So why is the Yukon so expensive? According to GMC's leasing bulletin, the offer in question is based on a lease rate of 3.7% APR and a residual value of 54% with no discounts to help lower the price. The LX benefits from a rate of 1.7%, a noticeably higher residual value of 60%, and $1,500 in manufacturer lease cash.
Choosing a Chevy could be more affordable but may come with a catch. For example, the 2021 Tahoe LT is listed at $579 for 36 months with $5,529 at signing for the 4x4. However, Chevy is including a $500 discount for coming from another lease. If you aren't eligible, the effective cost can reach as much as $747/month.
While it's not exactly an apples-to-apples comparison, the recently-updated 2021 Nissan Armada SV is listed at $675 for 36 months with just $675 at signing. With an effective cost of $694, that makes it $53/month cheaper to lease. As we reported last week, the new Armada is actually cheaper to lease than the 2020 model.
Further up the range, the 2021 Cadillac Escalade is listed at $1,029 for 36 months with $4,489 at signing. While the upfront amount is less than a Tahoe, the high payment results in an effective cost of $1,154 for the Premium Luxury trim. For reference, that's $98/month more than the cheapest lease on the BMW X7.
While discounts on GM's outgoing generation SUVs were impressive, deals on the redesigns have been nonexistent. That's a very different approach compared to some of the crazy APR deals we've been seeing involving 0% financing for 84 months. Sadly, the automaker's biggest SUVs remain a major exception.
Build & Price Your 2021 Tahoe »
Build & Price Your 2021 Yukon »