Now that the all-new 2017 GMC Acadia is rolling into dealers, shoppers get a lighter, more refined vehicle than the version it replaces. It's also up to $2,970 less expensive than the 2016 Acadia.
However, the older version isn't going bye-bye just yet— GM will be re-badging it as the Acadia Limited for 2017. In addition, the automaker is positioning it nearly $15,000 above the redesigned vehicle.
With three models on sale at the same time (2016 Acadia, 2017 Acadia, 2017 Acadia Limited), shoppers are bound to have some questions. So how do prices compare? And where are the deals?
Here's what you need to know.
Huge gap in price
Order guides reveal that the 2017 Acadia Limited will start at $44,775 with destination, slotting between SLT and Denali versions of the 2016 Acadia.
Interestingly, this positions the Acadia Limited $14,780 higher than the entry price of the redesigned 2017 Acadia (from $29,995). So why the stark difference in price?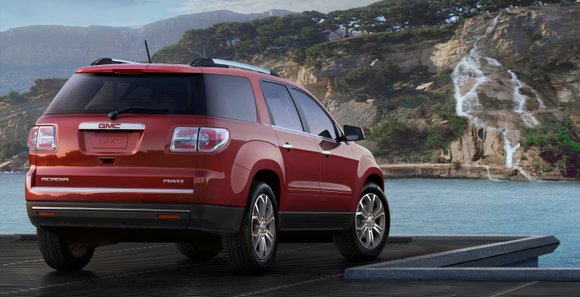 By keeping both available, the automaker is using a two-pronged strategy. On the one hand, the 2017 Acadia is up to 700 lbs lighter with a smaller design to improve efficiency and broaden appeal.
Side-by-Side: 2017 Acadia vs. 2017 Acadia Limited vs. 2016 Acadia »
In contrast, the Limited will probably appeal to those who prefer its size, especially its spacious third-row. As a fairly high-volume model, the tactic enables GM to offer shoppers two very different choices in the red-hot crossover segment.
Where are the deals?
When it comes to the 2017 Acadia, the best deal right now is a $1,000 conquest bonus targeting current non-GM lessees. Shoppers can also take 2.9% financing for 48 months.
Offers on the Acadia Limited are less impressive, with a mere $500 loyalty bonus for current GM lessees. We expect to see some sort of cashback offered within the next month or two once supplies improve.

The best deals are on the outgoing 2016 Acadia, which is still abundant. Shoppers can choose from $1,750 cashback or 0% financing for 72 months. There's also a $1,500 conquest bonus for non-GM lessees, bringing total cash to as much as $3,250 before dealer discounts.
Leases on the 2016 Acadia continue to rank well based on our monthly analysis of over 400 deals. The SLE-1 model is being advertised from $299 for 39 months with $2,599 due at signing. If you're coming from a competitor, the conquest bonus can reduce the amount at signing to a mere $1,099.
Our take
Given the higher price of the Acadia Limited, shoppers should be sure to explore the full range of choices available this month. Value-oriented shoppers who appreciate the older generation's spacious design will enjoy an array of outstanding deals, especially when it comes to leasing.
Learn more about the 2016 GMC Acadia »
For an easy way to find the best deals, visit the CarsDirect Deals Page for the latest deal-related news and analyses. Browse expert buying advice updated monthly on nearly 300 models for insider insights you'll only find at CarsDirect. Be sure to sign up for email alerts to have the latest deals delivered straight to your inbox.
Offers listed here are based on a resident in Southern California and may be subject to change. Most lease offers are for well-qualified buyers based on available credit and exclude tax, license, title, registration, document fees and insurance. Not all buyers may qualify. Please check with your CarsDirect Trusted Dealer to confirm details and eligibility.