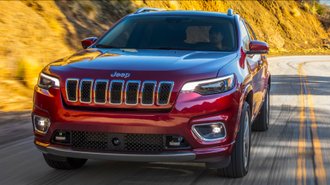 If you're wondering whether all-wheel-drive is worth the extra cost, there may be some quirks that can make it a better deal than you expect. While AWD pricing is often more expensive, our analysis finds that there can be some advantages when leasing.
For example, the 4x4 Jeep Cherokee Latitude currently adds $1,500 compared to the MSRP of the 4x2. However, the 4x4 has a residual value that's 3% higher. That can help make it a better value if you're planning to lease rather than buy.
Jeep's online payment estimator says the 4x2 can be leased from $345 for 48 months with $2,825 at signing. The 4x4 is listed at $348 with $2,975 at signing. That's a $6 difference in effective monthly cost ($404 vs. $410 before taxes & fees).
In terms of a monthly payment, the Honda CR-V LX currently has the exact same lease payment of $239/month for both the 4x2 and 4x4. Here, the biggest difference in upfront cost comes from a $600 higher amount at signing for the 4x4.
Having said all of that, all-wheel-drive may not always be worth the extra cost. You may find cases in which opting for a 4x4 offers no advantage when it comes to residual value or discounts. Offers tend to change monthly for most major brands.
We think it's worth noting that some drivers find that a good set of winter tires can offset the need for all-wheel-drive. It's also possible that an AWD car may have higher maintenance costs. We recommend considering all your options to get the best deal possible based on your needs.