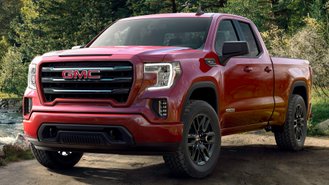 If you've been on the fence about whether to buy or lease a new car, now may be the time to do so. For example, a bulletin sent to Lexus dealers yesterday says the brand will cease offering 0% APR across its 2021 lineup after January 4 and will end a complimentary lease payment incentive worth as much as $1,000.
However, it's not just luxury cars with deals set to expire. For example, General Motors has been offering an Employee Pricing deal that we typically only see at the end of the year. In the case of a well-equipped GMC Sierra, the offer can be worth over $10,000 off MSRP and equates to one of the best deals on a truck.
Bargain-hunters should know that one of the craziest deals of the year is set to end on January 4. Since early fall, Chevy has been offering Costco members a $3,000 bonus on the 2020 Bolt EV. At its lowest point, we found lease deals as cheap as $145 for 36 months with $145 at signing in some parts of the country.
Having said that, the future is a bit murky. New car incentives are traditionally scaled-back after the holidays. However, an inventory shortage due to the pandemic prompted automakers to offer surprisingly good deals on 2021 models to spur demand. It's possible that some of this momentum may carry into the new year.
For example, Subaru — a brand known for offering minimal incentives — has been reliably offering 0% financing for most of the year. In fact, our analysis found that the brand has even been offering hidden APR deals for up to 72 months that can potentially save consumers a significant amount of money on a purchase.
If you're planning to lease, one of the trends we've been seeing is more automakers offering lower-mileage leases in order to advertise cheaper payments. Considering brands like BMW have been testing 7,500 mile-per-year offers, the chance of running into overage charges could be a risk worth considering.
Certified used car deals could see major changes, too. A special offer from Ford dubbed Ford Promise is due to end on January 4. The offer originally promised up to $15,000 in buyback protection on new & used cars in the event of job loss but was scaled back to just used cars this fall. There are no signs of an extension.
Here's when offers end from other major car brands: