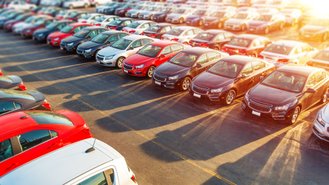 Hertz declared bankruptcy in light of the effects of COVID-19 and lowered prices on their used vehicles in May. According to a recent study by iSeeCars, buyers can now get over $6,500 off used vehicles being sold by the company. Most vehicles being offered are from recent model years which could be a great deal for those interested in getting into a newer used vehicle.
iSeeCars performed its analysis on 20,000 used cars listed in May 2020, with model years spanning from 2017 to 2019. On average, a vehicle sold by Hertz was 8% below market value which equates to $1,389 in average savings. This is up from April when the average savings were just $969.
The results show that 25 vehicles are priced at least 10% under market value. This list consists of vehicles ranging from mainstream brands such as Toyota and Hyundai to those from luxury brands like BMW and Mercedes-Benz. The BMW 7-Series offers the best deal with average savings of $6,877, 13.7% under market value based on a $42,680 price tag. Unfortunately, the study doesn't appear to address the fact that fleet vehicles can sometimes be equipped differently from cars consumers may find on a regular dealer's lot. While there are certainly deals to be had, these prices may seem better than they actually are.
Although rental vehicles tend to have higher mileage than other used cars, they could still provide a great value. They are potentially better maintained and iSeeCars CEO Phong Ly also states that "some rental vehicles such as luxury cars aren't the most popular rental car choices, and these cars enter the market with significantly lower mileage than average."
It's also important to note that not all automakers offer their vehicles to fleet services such as rental companies. Because of this, choices may be more limited compared to what you might find at other used car sales outlets. Either way, those that are able to find a car of interest may want to consider these offers.