Auto shows can be a great time to check out the latest cars & trucks without the pressure of having a salesperson looking over your shoulder. It's also a nice opportunity to easily explore all the major brands over the course of an afternoon together with your family.
However, many shoppers may not know that automakers offer special incentives to coincide with auto shows. Most don't even require that you attend the show. Simply being a local is often enough to save up to an additional $1,000 off your next purchase.
Here's a look at how this works and what to expect.
Free Money?
In the 2 to 4 weeks leading up to major auto shows, brands like Chevy, Ford and Chrysler tend to offer special discounts to coincide with the added buzz surrounding major debuts. This week's Orange County Auto Show is a perfect example.
Even though the show will be held from September 28 to October 1, GM has been offering locals as much as $750 in extra cash incentives since September 15. Select Chevy, GMC and Buick models are eligible for the promotion.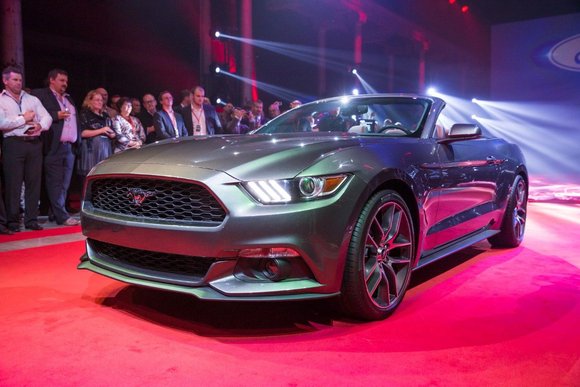 Through October 2, you can get an extra $750 off the Chevy Silverado, GMC Sierra, or Buick Regal, LaCrosse or Cascada. Or, you can get a $500 bonus on models like the Chevy Cruze, all-new Equinox, Traverse, Buick Encore and more.
What's nice is that you don't even need to attend in order to get the discount. Anyone living in the LA area is eligible. It's worth noting that certain base models like the Cruze L and Equinox L don't qualify, mainly because they're always excluded from promotions.
Worth Knowing
Based on what we generally see, there can sometimes be a "catch" when taking advantage of auto show discounts. For example, certain styles may not be eligible, as we saw with the New York Auto Show back in April.
In addition, not every model in an automaker's lineup may be eligible. If you're looking for extra savings on a specialty car like the Chevy Corvette or Ford Focus RS, it's probably not worth getting your hopes up.
The good news is that auto show incentives can usually be combined with other promotions. When you take advantage of model year-end discounts, the potential savings can be substantial if you know where to look.
For example, the 2017 Chevy Cruze is now eligible for $4,000 in offers here in Los Angeles. To top it off, current lessees of another GM car or truck can also get a $1,500 loyalty bonus for as much as $5,500 in potential savings.
Auto Shows With Discounts
Other auto shows sometimes feature similar offers.
Here are some examples from the past year.
Boston Auto Show (January): Ford offered an extra $500 off most models like the Focus, Fusion, Mustang, Escape, Explorer and more.
Detroit Auto Show (January): GM offered an additional $1,000 cash on popular vehicles like the Chevy Equinox, GMC Acadia and Buick Enclave.
Portland Auto Show (January): In the second half of January, GM offered $1,000 off models like the Camaro, Cruze, Equinox, Silverado and more. Residents of Portland and Eugene were eligible.
Dallas Auto Show (March): On March 22, Fiat Chrysler introduced a $500 bonus on vehicles like the Dodge Charger, Chrysler Pacifica, Jeep Cherokee and RAM 1500.
However, the downside was that only certain styles were eligible. In the case of the Cherokee, only the Latitude qualified for the bonus. In the case of the RAM, only Lone Star Crew Cabs were eligible.
New Mexico Auto Show (April): During the relatively narrow timeframe of the event, Fiat Chrysler offered an extra $500 off popular models like the Chrysler Pacifica, Dodge Charger, Jeep Cherokee, RAM 1500 and more.
New York Auto Show (April): From April 10, Fiat Chrysler offered a $1,000 bonus on models like the Dodge Challenger, Jeep Compass, Dodge Durango, RAM 1500 and FIAT 500X.
However, there were some big caveats. In the case of the Compass, only the Latitude 4x4 was eligible. For the Durango, only all-wheel drive SXT and GT models were eligible. In the case of the RAM, only Express Quad Cab models qualified.
South Florida Auto Show (September): Earlier this month, Mazda debuted a $250 bonus on all 2017 and 2018 models on September 9. However, the offer was put on hold in favor of hurricane assistance incentives.
Los Angeles Auto Show (November): Beginning November 11, GM introduced a $500 bonus on bestsellers like the Chevy Cruze, Camaro, Equinox and Silverado.
On November 18, Fiat Chrysler debuted a $500 bonus on models like the Chrysler 300, Dodge Charger and Challenger, Jeep Renegade and FIAT 124 Spider. Interestingly, even the Jeep Grand Cherokee was eligible.
We've seen similar offers from Mazda and Nissan in the past, too.
San Francisco Auto Show (November): Beginning November 16, GM introduced a $500 bonus on models like the Chevy Cruze, Camaro and Equinox as well as the GMC Sierra and Terrain. Eligible Buicks included the Regal and Verano, but none of the brand's SUVs.