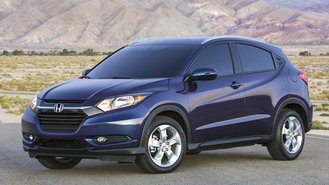 Compact crossover shoppers have some good news this week- the all-new 2016 Honda HR-V has finally started arriving at dealerships. However, if you're looking for a lower-priced model or deals, there are some things you'll want to know in advance. Here's what you need to know.
New territory for Honda
The HR-V is a big deal because Honda is entering the red-hot compact crossover segment. It competes with popular models like the Jeep Renegade, Chevrolet Trax, and Buick Encore.
The segment has been appealing to shoppers looking for the utility and commanding driving position of an SUV but with better fuel economy. It's becoming a crowded segment, with the Fiat 500X and Mazda CX-3 due to begin arriving this summer, too.
Side-by-side: New compact crossovers>>
What to expect on dealer lots
An analysis of initial inventory indicates dealers are receiving higher-trim EX models first. If you're looking for the lowest-price LX model starting at under $20,000, you may be in for a wait.
This is actually pretty normal based on what we typically see from Honda. When the most recent CR-V was released, dealers initially received loaded EX and EX-L models first- the more affordable LX was harder to find for the first several months.
See current offers on the Honda CR-V>>
What to expect in terms of deals
There are no rebates or advertised lease deals yet but this is normal at this stage. Beyond initially high prices due to limited supplies, shoppers should expect negotiation room to be slim.
Like the related Honda Fit, the HR-V only carries around a $500-600 spread between the dealer invoice price and full MSRP. The Fit consistently commands prices close to MSRP and deals are non-existent.
We expect prices and deals to behave in a similar manner on the HR-V. We'll know more in the initial 30-60 days based on the prices it commands on dealer lots.
See HR-V trim levels and pricing>>
Our take
Shoppers have a lot to look forward to with the Honda HR-V. With a starting price of $20,795 for the LX with CVT transmission, the new crossover represents an outstanding value. However, shoppers looking for a deal may need to set their expectations in advance. Like the Fit, we expect discounting to be relatively minimal and for deals to be conservative.
Get a quote on the all-new Honda HR-V>>
Visit our CarsDirect Pricing Insider page for pricing and deal analyses for over 300 models. Sign up for email alerts to have our analyses delivered straight to your inbox. Browse our Deals Articles for insider info on the latest new car incentives that can save you money.