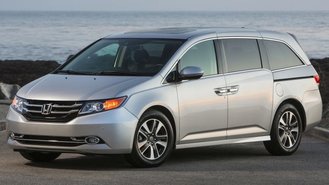 Deals don't often change mid-month but Honda isn't standing still with a better finance deal on the 2016 Odyssey minivan. The new APR rate, which the automaker began offering yesterday, can potentially save shoppers hundreds in interest. But is it the best deal on a minivan? And is the Odyssey a good choice for shoppers looking to lease? Here's what you need to know.
Deal overview
Starting December 15, Honda is offering 0.9% APR for up to 60 months to well-qualified buyers on all versions of the 2016 Odyssey. This is a full 1 point improvement over the 60 month rate of 1.9% advertised earlier this month. The deal is set to expire January 4, 2016.
Is it the best deal?
When you consider that the 2015 Odyssey recently sold out, this change makes complete sense. Qualified shoppers stand to save hundreds of dollars in interest when compared to the deal from earlier this month.
However, if you're looking for the best deal on a minivan and are paying with cash or qualify for special rates through a dealer, it's tough to beat this month's rebates on the 2016 Dodge Grand Caravan SE worth 9.8% off MSRP. Alternatively, the 2015 Toyota Sienna is a lower profile deal worth considering.
Toyota opted for a late launch of the 2016 Sienna and has been using big discounts to clear the outgoing model. Shoppers currently have a choice between 0% financing for 60 months or a $2,000 rebate.
If you prefer to lease, the Sienna also ranks as a top value thanks to a low effective lease cost. This month's deal on the 2015 Sienna L in Southern California is $239 per month for 36 months with $1,999 due at signing. Its effective lease cost is a whopping $53 per month less than a 2016 Odyssey LX.
Side-by-Side: Honda Odyssey vs. Toyota Sienna>>
Our take
If you have your heart set on the Odyssey and aren't keen on leasing, Honda's latest finance deal is worth a look.
Get your price on the Honda Odyssey>>
For an easy way to find the best deals, visit the CarsDirect Deals Page for the latest deal-related news and analyses. Browse expert buying advice updated monthly on nearly 300 models for insider insights you'll only find at CarsDirect. Be sure to sign up for email alerts to have the latest deals delivered straight to your inbox.
Offers listed here are based on a resident in Southern California and may be subject to change. Most lease offers are for well-qualified buyers based on available credit and exclude tax, license, title, registration, document fees and insurance. Not all buyers may qualify. Please check with your CarsDirect Trusted Dealer to confirm details and eligibility.