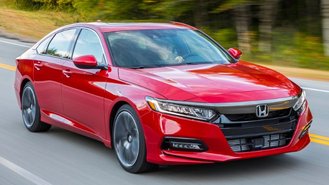 Leasing a Honda has some important benefits worth knowing about. Whether it's a relatively forgiving wear & tear policy, built-in GAP insurance or special loyalty discounts, there are some nice advantages that other brands don't always offer.
Here's a look at some benefits to leasing a Honda in 2018.
Benefits of Leasing a Honda
Every advertised lease on a Honda factors in a 12,000 mile-per-year allowance, with the option to purchase additional miles upfront to avoid having to pay an overage at the end of your lease.
In contrast, brands like Chevy and Ford generally feature deals with 10,000 or 10,500 miles. As a result, you may see comparable payments elsewhere, but it may not mean much if you end up paying more in the end.
Every Honda lease comes with Guaranteed Asset Protection, commonly referred to as GAP Insurance. This covers you in the event your vehicle is stolen or experiences damage deemed a total loss.
GAP can come in handy in the event the value of the car ends up being worth less than what you owe the financing company in remaining payments.
Coverage For Excess Wear & Tear
Concerned about having to shell out extra cash at the end of your lease because of a few dings? Honda includes a $500 waiver for excess wear & tear as well as damage.
If you're planning on buying or leasing another Honda, you may be eligible for a loyalty waiver worth up to $1,000.
Honda offers a $500 bonus when financing or leasing. To qualify, you'll have to have graduated within the past 2 years or be within 6 months of graduation.
Honda routinely offers deals on key models like the Civic and Pilot. Although Honda isn't always the cheapest, we find its promotions tend to be competitive due in large part to strong residual values.
However, it should be noted that the brand has stubbornly resisted offering deals on some of its hotter-selling models like the redesigned Accord and CR-V. View Current Deals »