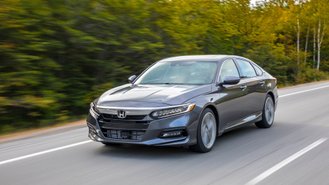 Deal hunters may be surprised to learn that lease prices for the Honda Accord are actually cheaper now than they were for Independence Day. According to a letter sent to dealers today, Accord leases benefit from a $900 price cut. As a result, the car is now able to undercut competitors and the Honda CR-V.
Beginning today, the 2019 Accord LX is listed at $249 for 36 months with $1,499 due at signing. While that's the same payment as before, the amount due at signing has fallen from $2,399, a $900 advantage. The effective cost of this lease has subsequently fallen from $316 to $291, a $25 improvement.
Interestingly, those comparing prices with the Honda CR-V may find the Accord to be more affordable. That's because Honda has quietly raised the amount at signing on the CR-V LX by $300. The Accord LX is now $33/month cheaper than the CR-V ($291 vs. $324). Previously, they had the exact same price ($316).
With the exception of the hybrid, all other Accords benefit from the same $900 cut in the amount due at signing. Based on our analysis, the key changes with the Accord involve a lower underlying interest rate and a $450 increase in factory lease discounts.
Previously, all Accords were subject to a $300 lease incentive and a money factor of 0.00118, which essentially translates to an interest rate of 2.8%. Now, Honda is offering a $750 lease discount and a money factor of 0.00056, which is akin to 1.3% APR.
As before, there's about a $600 to $700 difference in lease prices in some parts of the country. The figures above are based on an offer you can find in places like California, Florida, Illinois, New York, and Ohio. In areas like Colorado, Missouri, Washington, and Virginia, the amount at signing for the Accord LX is $2,099.
With an effective cost as low as $291/month, the Accord is a much better deal than it was before. Here in Southern California, the latest change allows the car to undercut competitors like the 2019 Toyota Camry LE ($305) and 2019 Mazda Mazda6 Sport ($318).