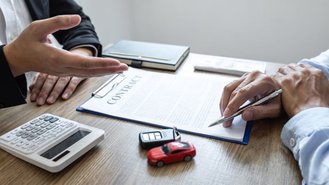 Captive financing comes from the financial arm of a specific automaker. These brand-specific financers are known as captive lenders, and they differ from direct lenders such as banks and credit unions, and from other third-party lenders.
A captive lender handles lending for their brand(s) only. Most manufacturers have captive lenders. They're indirect lenders, so you work with the finance manager at the dealership rather than the lender itself.
As a general rule, many captive lenders work with borrowers who have good credit – a score of 670 or higher on the FICO scoring model. FICO is the most commonly used credit scoring model among auto lenders, but many captive lenders may use other models as well, such as VantageScore.
Here's how captive financing works. You typically apply for this right at the dealership with the finance manager. When you're shopping for a vehicle at a franchised dealership, you may be offered financing through a captive lender. Some captive lenders work with a wider range of credit scores than others. Some may offer deals to consumers who have credit scores as low as 620, but you may have to search to find them.
Like any other loan, you must meet certain qualifications such as proof of income, a valid driver's license, and proof of residency to be eligible. But, depending on your credit situation, and the lender you're working with, the requirements vary.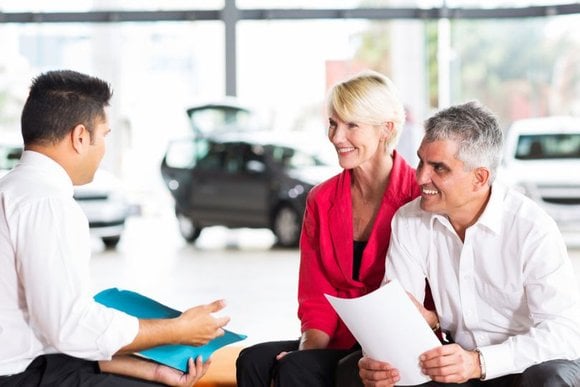 There are advantages to working with a captive lender. Captives are the only lenders that can offer below-market interest rates on loans and leases, making them a wise choice if you qualify for one of these deals. This means that all the ads showing 0% APR deals have one caveat in common – you must finance through the brand's captive lender to be eligible for this rate. You likely need to meet a slew of other requirements, as well.
Besides offering lower interest rates, captive lenders also have other advantages for borrowers, including more flexibility in their lending guidelines. Captives can change their guidelines in response to market conditions such as vehicle sales or inventory shortages much more quickly than a bank or credit union. Other offers that usually come from captive lenders are deals like deferred payment incentives.
Is captive financing worth it? When you're working with a captive lender, they may offer you a number of deals, but it's up to you to decide whether they're the best one for you. Many captive lender incentives aren't stackable, or negotiable.
Other deals you may encounter when car shopping, such as cash on the hood, is offered no matter whom you choose to finance with, so weigh this carefully against the savings from a lower interest rate offer. Additionally, you likely need to meet several qualifications to get a special deal through a captive lender.
Captive lenders offer many deals that you can use to your advantage. Captive lenders like Ford Credit, Toyota Financial Services, and Hyundai Motor Finance are known for working with a wide range of consumers. There are many captive lenders across the spectrum of the auto market, though, from luxury on down such as BMW Financial Services, Infiniti Financial, Subaru Motors Credit, and Nissan Motor Acceptance Corporation.
Right now some captives are offering stellar deals.
The 2021 Buick Enclave adds an additional $500 off its current rebate if you finance through GM Financial
Audi Financial is offering 0.49% APR for 60 months on select models
The RAM 1500 Classic is offering big rebates on models in California when you finance through Chrysler Capital
If you qualify for a great deal through a captive lender it can certainly equal savings. In some cases, though, it's better to take a cash rebate on the spot. Right now, some manufacturers are scaling back on the incentives they offer, so if you find an offer that works for you, don't wait too long to act.