Hyundai has introduced "Ioniq Unlimited+" for the new Ioniq Electric arriving now at dealers. Like the car itself, it's only available in California.
It's being called a subscription program with benefits like an unlimited mileage allowance, charging reimbursement and more. However, a closer look reveals many similarities to a traditional lease.
So what does it cost? How do the benefits work? And is this really a subscription program, or is this just a lease with benefits? Here's what you need to know.
What It Costs
At its core, the subscription is based on a monthly payment that varies based on your desired trim level. Currently, it's $275 for the Base, $305 for the Limited and $365 for the Limited Ultimate.
There's an amount due at signing of $2,500, but that's designed to be offset by the California Clean Vehicle Rebate, which is $2,500 for most applicants based on income. You'll have to "front" the $2,500, then apply for it separately via the program website.
Behind the scenes, Hyundai is using $5,500 in lease discounts, and a money factor equivalent to around 1.2% to 2.6% APR depending on trim. Based on our analysis, the mid-level Limited represents the best value when considering effective lease cost.
Although we can't really call Unlimited+ a true zero-down lease, that ends up being the case if you're eligible for the Clean Vehicle Rebate and are able to get it afterward. In our view, what's more interesting is that certain taxes and fees are already built into the payment.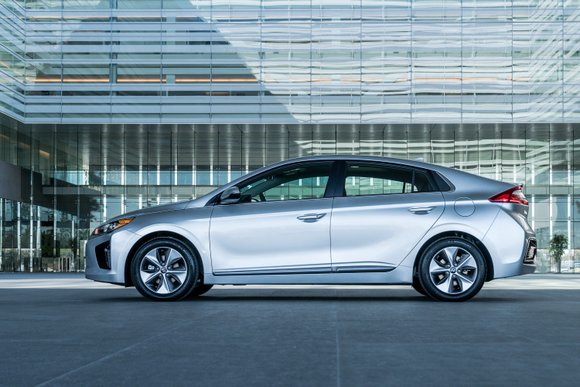 Initial taxes, title, license and fees (including acquisition fee) are covered by the dealer, and are then reimbursed by Hyundai. The main thing that's not included, however, is California Sales Tax on the monthly payment.
Like most promotional leases, Unlimited+ requires you to have a fairly high FICO score of 700 or higher. However, unlike most leases, your only option is a 36-month term. Prefer a shorter 24-month option? That's not available, at least for now.
Shoppers should also be aware that Hyundai isn't allowing lessees to stack Unlimited+ with any other incentives, such as Circle Pricing. That said, you still have the option of buying your Ioniq Electric if you like.
Although they heavily promote the subscription program online, there are actually some incentives for purchasing. Currently, Hyundai is offering a finance rate of 0% APR for 60 months or 1.9% for 72.
Mileage Benefit
One of the most notable benefits of Unlimited+ is that there isn't a mileage allowance like you'd find on typical leases. Competitors typically include 10,000 to 15,000 miles per year, with the option to purchase more.
If you don't want to worry about overage charges, Hyundai's program might be appealing. There's no real catch here, and this is the only piece we'd actually call "unlimited." The other benefits function a bit differently.
Charging Benefit
Unlimited+ also features an unusual complimentary charging benefit. That's not a license to charge however much you want for free, however. In fact, the method for how it's handled is rather complex.
The simple explanation is that lessees are issued a credit against their account each month based on their usage over the course of 3 years or 50,000 miles, whichever comes first.
In more precise terms, Hyundai will calculate your use by requiring you to sign up for its Blue Link service. In addition to the ability to call for help in the event of an accident or helping if you get locked out of your car, the system will be used to determine your mileage.
Monthly use will be based on the calendar month factoring a) your monthly mileage, b) the car's kWh/Mile rating (28 kWh/124 mi) and c) the cost per kWh in California. The cost for California will be based on the U.S. Energy Information Administration's "Average Price of Electricity to Ultimate Customers by End Use Sector, by State" for residential use.
Maintenance Benefit
The other major benefit of Ioniq Unlimited+ is a complimentary maintenance program. Hyundai will cover basic replacement of certain items for 3 years or 50,000 miles, whichever comes first.
Covered items include things like brake pads, wiper blades, headlamps, belts & hoses, fuses & bulbs and routine diagnostics and fluid replacement. There's also coverage for one battery replacement during the lease term.
Our Take
If you're looking to lease an EV and want the feeling of having "everything included", the Ioniq Unlimited+ program could be an attractive choice, particularly for first-time lessees.
However, if you don't consider things like complimentary maintenance really necessary, there are more affordable alternatives. The FIAT 500e and Nissan LEAF often feature some of the best electric car deals. But they're also older vehicles that may not be as attractive as the Ioniq.
One could argue that Unlimited+ isn't a true subscription service. That could just be semantics, but it's worth making a distinction. For example, you might sign up for online movie streaming with the expectation of being able to stop or start whenever you like. This is nothing like that.
We think it's best to consider this a lease with benefits. Whether or not those benefits are worth it will depend on your anticipated use of the car and your comfort level. Be sure to consider these things when weighing whether or not to sign up for this new and innovative program.