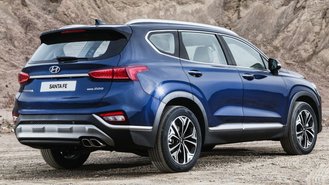 Although longer auto loans typically result in higher interest rates, this isn't always the case. Shopping around can result in some pleasant surprises due to quirks in manufacturer incentives. In some cases, a longer loan may lower your monthly payment without costing you more money in interest compared to a shorter loan.
For example, the 2020 Hyundai Santa Fe currently features 0% financing for up to 72 months. That means your total cost will essentially be the same whether you choose a 48 or 72-month loan. Here's a look at what that could mean for your monthly budget.
In the case of a $30,000 vehicle, opting for a 4-year loan at 0% would cost $30,000 and a payment of $625/month before taxes & fees. With the 6-year option, the total cost would be identical but the payment would fall to $417/month. That's a difference of $208, per month, for 6 years.
Here, choosing the longer loan could be a no-brainer. Other vehicles that offer this type of advantage right now include the 2019 Kia Optima,(0% for 75 months), Ford Mustang (0% for 72 months), and Chevrolet Bolt EV (0% for 72 months plus $2,500 bonus cash).
Sadly, this isn't always the case.
For example, the 2019 Toyota Highlander offers 3.9% APR for 60 months or 4.9% for 72. On a $35,000 SUV, the 5-year option would cost $38,580 at $643/month. A 6-year loan would cost $40,468 with a payment of $562/month. Here, a lower payment requires forking over almost $5,500 in interest.
So what does this all mean for car buyers?
While longer-term loans offer added flexibility, it's important not to lose sight of your total cost. In some cases, manufacturer incentives may enable you to have your cake and eat it too by lowering your payment without raising your total cost.
Examples based on offers in Southern California