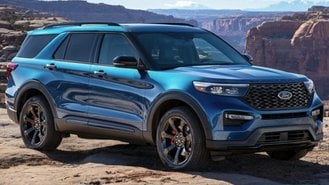 The cost to lease a Ford Explorer may vary because Ford incentives differ based on region. Fortunately, CarsDirect's experts provide monthly coverage of Ford Explorer prices & deals and can help make it easier to understand how much a new Explorer may cost to lease and ways to ensure you get the best price.
Ford's best leases on the Explorer typically focus on the XLT trim. While the cheapest Explorer is the Explorer Base, residual values for the XLT are up to 3% better. That's important because higher residuals can result in better leases. The built-in margin on the base trim is also smaller, which means less room for negotiation.
If you see an Explorer lease with a low price, it may include a discount not everyone may be eligible for. These incentives change regularly and have often included a $500 "Select Inventory Bonus" on SUVs in stock for over 60 days. We also see trade-in assistance, a bonus you can only get when trading-in an existing car.
At the moment, Ford's lease on the Explorer XLT costs $299 for 36 months with $4,099 due at signing here in California. However, if you read the fine print, it says the price includes $1,500 in "RCL Renewal" cash. That means it's a loyalty discount only available to returning "Red Carpet Lessees" through Ford Credit.
Although the payment on the Explorer is low, the high amount at singing makes this very expensive. When you factor in the amount required upfront, this $299/month lease actually costs $413. We call that its effective cost, and use it as a basis for finding the best lease deals and to enable you to compare lease prices.
Without these extra incentives, shoppers may end up having to pay either a higher monthly payment or a larger down payment. We recommend reading any fine print carefully. It's also worth noting that certain options & equipment packages may have built-in discounts that can make them more affordable than you think.
The cost to lease an Explorer may also vary depending on your credit. For example, without top-tier credit, Ford's standard lease rate on the Explorer is equivalent to 5.1% APR. In contrast, those with excellent credit may be eligible for rates as low as 1.2% based on current offers in cities like Atlanta, Denver, and others.
When comparing Explorer prices, keep in mind that most dealers include rebates for buying but not for leasing. These incentives can differ significantly and impact the price you end up having to pay. Being upfront about your situation will help enable your salesperson to tell you about any incentives you may be eligible for.
Don't forget to find out if you're eligible for Ford Plan Pricing through the company you work for. This special pricing program offers haggle-free savings that can be combined with other incentives. Finally, local demand will also affect the price you pay for a given Explorer model, so be sure to explorer all your options.