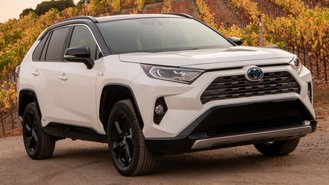 In most cases, manufacturers allow dealers to set their own prices based on local demand. Higher-demand vehicles may command a markup, sometimes extremely large ones exceeding $30,000. However, there may be some steps you can take to avoid to avoid paying a dealer markup and get the best deal possible on a car.
You can usually spot a markup by looking for a listing price that's higher than MSRP. Below you'll find an example of a new Toyota Corolla SE with an MSRP of $25,719 but a selling price of $31,709. That's a $5,990 markup, or 23% above MSRP, on what should be one of the most affordable Toyotas that you can buy.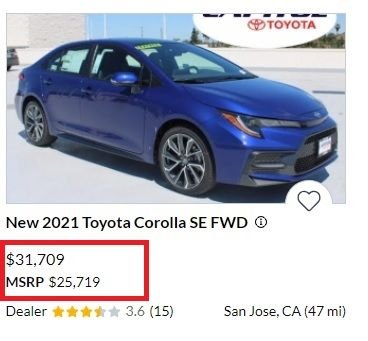 Here are some things you should know about markups and how to avoid them:
Your results will vary. First, it's important to know that every dealer may have its own policy on markups. When the C8 Corvette was introduced, online forum members crowdsourced a list of Chevy dealers that promised to not sell the car above MSRP despite overwhelming demand for the latest generation.
Believe it or not, it's not just flashy sports cars that can command markups. A chip shortage has resulted in manufacturing delays and fewer cars left to sell. As we mentioned above, even a Toyota Corolla can have a markup if a dealer thinks that current demand justifies a higher price based on limited availability.
You may find a dealer near you willing to sell a popular car without a markup. It's usually not difficult to check prices at multiple dealers, but keep in mind that your results may vary. Some important terms to be on the lookout for in online car listings or a dealer's price quote include "market adjustment" or "dealer adjustment."
Here's an example of how this market adjustment is casually denoted in the listing for the above Corolla.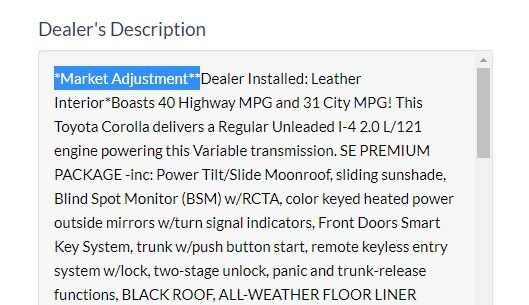 Look out for add-ons. Dealers sometimes promise to sell a car at MSRP but may have add-ons with inflated prices. One of the more traditional tactics involves a "Protection Package" or "Pro Pack" for a car's clear-coat paint or underbody protection. Consider asking about dealer add-ons early in the buying process.
Having said that, your ability to remove add-ons may be limited. Not every dealer has add-ons, so we think it's worth checking with multiple dealers. In some cases, you may actually find that these add-ons have value to you. Just be you understand what is and isn't included before proceeding with a particular dealer.
Look for financing markups. While it's tempting to focus on price, you may encounter interest rate markups when financing. For example, Jaguar is advertising 0% APR for 36 months but is actually offering that rate for up to 72 months. The catch is that dealers are allowed to mark-up loans over 36 months in length.
Ask for a discount. It may be counterintuitive, but cars with markups may have manufacturer incentives that can save you money. For example, Toyota currently has up to a $1,000 rebate on the Corolla, plus as much as a $500 college grad discount. You may also find Toyota loyalty discounts in some parts of the country.
You may even be able to score a deal when financing. For example, Nissan offers an incentive called NMAC Special APR Cash worth up to $1,000 that can be combined with 0% financing. Brands like Acura even offer so-called conquest cash incentives worth up to $2,500 simply for coming from a competing brand.
Consider waiting. If you're looking to buy a popular model like the Kia Telluride, there's a good chance that you'll pay above MSRP. Our last analysis found dealers charging up to a $10,000 markup on Kia's three-row SUV. Curiously, we actually found smaller markups on the Hyundai Palisade worth half that amount.
If you're adamant about not paying over MSRP, you may want to consider waiting. Inventory changes daily and manufacturer incentives usually change on a monthly basis. You may even have the option to place a factory order at MSRP, and brands like Ford currently offer as much as a $1,000 discount on vehicle orders.
CarsDirect's team of experts provides monthly updates on the latest deals for buying & leasing over 200 different models. Sign up for email alerts to get the inside scoop on when prices drop (or when they go up) to make the most informed decision possible. Doing so could help you determine the best time to buy.