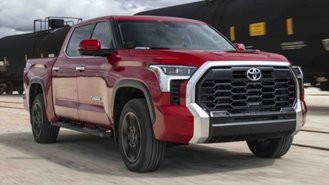 With the all-new Tundra set to begin arriving on next month, now could be a good time to put down a reservation with your local dealer. However, our analysis finds the reservation process for the 2022 Tundra may vary depending on the dealer and may involve a deposit prior to placing an order for the highly-anticipated truck.
At Longo Lexus in Southern California — historically one of the country's largest Toyota dealers — 2022 Tundra buyers can be added to a waitlist for a $500 reservation fee. The fee is refundable prior to delivery and can be made via credit card. The dealer is also even offering a way to avoid paying over MSRP.
That may sound simple, but it could be more complicated. That's because the dealer is already estimating a wait of up to 1.5 years on pre-orders for certain styles due to supply constraints. Like most automakers, Toyota hasn't been immune to a global chip shortage even with the high-profile launch of its flagship pickup truck.
The reservation process for the Tundra may depend on a dealer's individual policy. We recommend finding out what a reservation guarantees and what it doesn't. What appears to be clear at this stage is that even the all-new Tundra will be severely affected by production issues wracking just about every competitor.
If you have the luxury of time, a $500 refundable deposit could be a reasonable option. However, a number of important trucks are set to debut in 2022. For example, the re-engineered 2022 Silverado, 2022 Sierra, and all-new Ford F-150 Lightning all promise great things for truck shoppers in the year ahead.