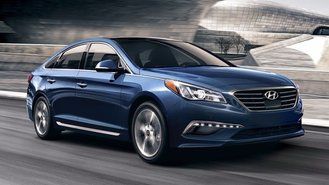 Competition in the midsize car segment has been fierce, with an array of outstanding choices available. The Hyundai Sonata has been a strong seller, with an array of attractive deals helping it lead to the automaker's best month ever in March.
However, new information shows the automaker is adopting a different strategy with the addition of a new base model for its bestselling sedan. Will the new car be a better deal? Will it sacrifice any features? Here's what you need to know.
New price point
According to order guides issued last week, Hyundai will add a new base trim to slot below the current Sonata SE. The new variant, which we'll refer to here as the Sonata Base, will start at $22,135 with destination, or $450 less than the SE's MSRP of $22,585.
Standard equipment will mostly be identical to the SE. The car will continue to feature a 2.4-liter 4-cylinder engine, 6-speed automatic, 16-inch alloy wheels, rear lip spoiler, air conditioning, built-in Bluetooth and more.
Key differences are that the Sonata Base will not get a rearview camera, automatic headlights, a 7-inch infotainment screen with HD Radio, and compatibility with Android Auto, Apple CarPlay and Hyundai Blue Link.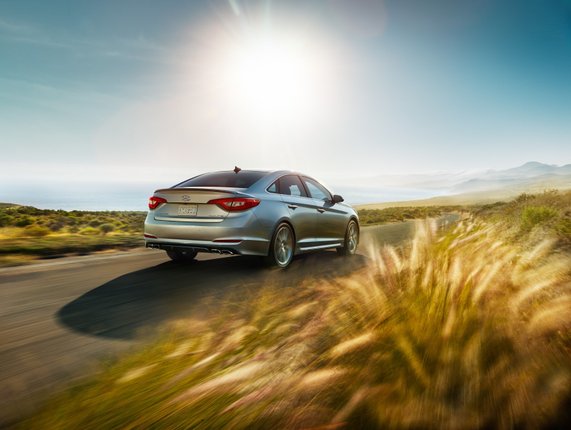 Most affordable title?
The $450 lower price point may not sound like much, but it may have an impact on cross-shoppers researching prices online. According to Hyundai spokesperson Derek Joyce, the automaker has been looking at the market and saw a need for a new base model. Based on our analysis, the Sonata has nudged past the Chevrolet Malibu L ($22,500) and Subaru Legacy 2.5i ($22,540) and hit the lowest price point in its segment (see below for our full list).
Still a good deal?
It remains to be seen if shoppers decide whether the price difference is worth giving up a rear camera and the latest connectivity. Shoppers should note that automakers sometimes exclude base models from special offers (like the Chrysler 200 LX and Chevrolet Malibu L). Unfortunately, Hyundai declined to disclose if this will be the case here.
Another factor to consider is how many cars dealers choose to keep in stock. Currently, SE and Limited models are generally easiest to find due to higher customer demand. Will the new version be popular enough for dealers to keep more than a handful around for advertising purposes?
In terms of deals, Sonata shoppers currently have an array of incentives to choose from. Most versions get $1,000 cashback, but the 32 mpg ECO model gets an impressive $2,250. The best finance deal is 0% APR for 60 months plus up to a $1,750 bonus. Leases for the Sonata SE start from $179 for 36 months with $2,199 at signing. With an effective cost of $240 per month, it's a bit more affordable than a 2016 Honda Accord LX ($255).
| | |
| --- | --- |
| Model | MSRP |
| 2016 Hyundai Sonata Base | $22,135 |
| 2016 Chevrolet Malibu L | $22,500 |
| 2016 Subaru Legacy 2.5i | $22,540 |
| 2016 Hyundai Sonata SE | $22,585 |
| 2016 Kia Optima LX | $22,840 |
| 2016 Chrysler 200 LX | $22,990 |
| 2016 Volkswagen Passat 1.8T S | $23,260 |
| 2016 Nissan Altima 2.5 | $23,335 |
| 2016 Chevrolet Malibu Limited | $23,440 |
| 2016 Ford Fusion S | $23,475 |
| 2016 Mazda Mazda6 iSport | $23,830 |
| 2016 Honda Accord LX | $23,840 |
| 2016 Toyota Camry LE | $23,905 |
Note: Prices include destination and cost of an automatic transmission when applicable. Values here may differ from manufacturer websites (Mazda is showing an old destination charge, Ford is factoring package discounts into its base prices).