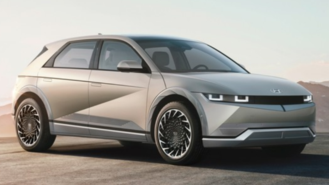 Hyundai has become the latest automaker to cut lease prices for one of its most popular electric vehicles. According to a bulletin that was sent to Hyundai dealers yesterday, the automaker has increased lease cash on the 2023 IONIQ 5 fivefold. While Hyundai has dropped lease prices for the IONIQ 5, it looks like the automaker is keeping the majority of a $7,500 commercial tax credit for itself.
Last month, Hyundai didn't have an advertised lease deal on the 2023 IONIQ 5 but was offering $500 lease cash on all trims. This month, the Ioniq 5 is available with $2,750 lease cash on all trims. That's a significant increase month over month and this has helped make the IONIQ 5 a much better EV to lease.
Furthermore, the electric SUV's entry-level SE trim is available with a deal of $569 per month for 39 months with $3,999 due at signing. This deal is for an IONIQ 5 with an MSRP of $46,836 (including destination) and for an annual mileage limit of 10,000 miles.
Like many other electric vehicles, the Ioniq 5 is eligible for the commercial tax credit thanks to the U.S. Treasury Department's decision to allow EVs that are leased by consumers to be eligible for the full amount, regardless of whether they meet requirements set out by the Inflation Reduction Act. This has made vehicles like the IONIQ 5 eligible for the tax credit despite being built overseas.
Hyundai's decision to provide consumers with a portion of the $7,500 tax credit strikes an interesting middle ground. Some automakers have decided to give consumers the full portion of the commercial tax credit, while others aren't giving shoppers any of it. Hyundai is one of the few to straddle the line by providing consumers with a portion of the credit.
Unsurprisingly, Kia is doing something similar with the EV6 this month. Even Tesla recently cut lease prices. In contrast, Ford electric car and truck leases continue to lack the tax credit despite the recently updated government guidance, potentially making vehicles like the Mustang Mach-E and F-150 Lightning expensive to lease.