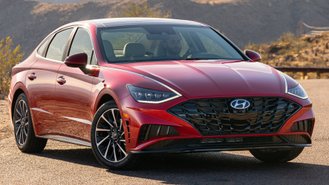 Hyundai has been cutting car prices faster than any other brand with newer & better deals for buying & leasing. Based on our analysis, the company has sweetened deals nearly half a dozen times since early March. In some cases, the cost to buy some of its bestsellers has changed substantially from one day to the next.
Back on March 17, the brand began offering 90 days of deferred payments and a new loyalty discount worth up to $1,000 to keep customers from switching. 60-month rates for the new Sonata were also cut from 1.9% to 0% with no payments for 90 days, resulting in an almost $1,500 cut in interest on a $30,000 car.
Just over a week later, the brand joined Detroit's Big Three in offering 0% APR for 84 months on March 26 for select 2019 vehicles. Deferred payments were also extended to 120 days. On April 2, the 72-month rate for the Elantra rose from 0% to 1.9% in exchange for the addition of a $500 incentive for taking out a loan.
However, the higher rate on the Elantra was short-lived. The very next day, Hyundai extended 0% APR for 84 months to include the 2020 Elantra and Tucson. On a $25,000 Elantra, this resulted in a $70/month improvement in payment and a nearly $1,500 cut in interest compared to the best offer just a day before.
On April 3, prices for leasing were cut by $10/month on bestsellers like the Elantra, Sonata, Kona, Tucson, and Santa Fe. As a result, the Elantra and Santa Fe are now among the cheapest vehicles to lease in their segments. Sadly, hotter models like the Palisade are among a handful of vehicles that aren't being discounted.
Last weekend, rebates on the 2020 Santa Fe SE were doubled and it became eligible for 0% APR for 72 months (from 1.9% APR). On a $35,000 vehicle, this results in a nearly $2,000 cut in interest with a $29/month improvement in monthly payment. The loyalty discount on the Sonata was also doubled to $1,000.
To put this all in perspective, Toyota only started cutting rates yesterday and just for a handful of bestsellers. While we're certainly in favor of consumers getting better prices for buying & leasing, the sheer number of changes from Hyundai should be a cause of concern for those looking to get the most for their money.
After all, how can shoppers be confident that they're getting the best price during this challenging time? With the potential to impact one's monthly budget by up to $70/month from one day to the next, the brand's behavior could make it difficult for the average buyer to make the most informed decision possible.
Yesterday, it was reported that Hyundai opted to increase vehicle production in South Korea after its plant in Alabama closed for safety reasons due to COVID-19. However, this apparently resulted in a glut of inventory waiting at U.S. ports. As a result, the recent uptick in deals could prove to be just the beginning.