Hyundai's slow-selling NEXO fuel cell SUV has an unbelievable discount ahead of the 4th of July holiday. According to a bulletin sent to dealers, the model offers up to a whopping $20,000 off MSRP plus 0% APR for 6 years. However, there are some quirks worth knowing about with the incentives for this hydrogen vehicle.
The deal in question is for the top-of-the-line 2021 NEXO Limited and involves $20,000 in bonus cash that can be combined with 0% financing for 72 months. That's the largest discount we've ever seen on any Hyundai, although it's worth remembering that the SUV is only sold at a handful of dealers in the state of California.
Oddly enough, Hyundai's deal on the entry-level NEXO Blue is worth far less at "just" $7,500 plus 0% APR. That's a difference of $12,500 between two trims separated by nearly $3,500 when comparing MSRPs ($60,120 vs. $63,570, including destination charge). But don't expect to get the same deal when leasing.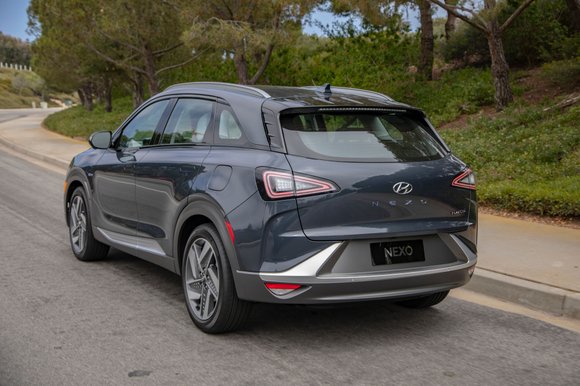 That's because Hyundai's biggest lease discount is worth $11,250 on the base model and just $8,750 on the Limited. Here, buying a loaded NEXO will offer less than half the savings compared to leasing. In contrast, incentives for buying favor the entry-level NEXO model based on offers that took effect last Thursday.
But that's not all. Apart from offering a hydrogen car tax credit, the NEXO is eligible for a $4,500 California Clean Vehicle Rebate. Depending on the incentives you qualify for, this could all help make a major dent in the vehicle's relatively high sticker price. But there are some downsides compared to a battery-electric EV.
For example, California's hydrogen refueling infrastructure is still nowhere near that of regular EVs. Newer electric cars like the Bolt EUV also already offer lease deals of their own. Limited availability may also make buying a NEXO particularly difficult, with fewer than 100 vehicles in the state based on inventory data.
That said, some dealers appear to have somewhat of a glut of NEXOs. For example, Keyes Hyundai in Van Nuys has 27 NEXOs listed online. In contrast, the same dealer has just 15 Tucsons advertised on its website. If you can find a NEXO dealer with a bunch of vehicles from which to choose, now may be a good time to buy.
More and more automakers have been cutting incentives in light of a growing inventory shortage. Fortunately, the NEXO appears to be a rare exception. Crazy hydrogen car discounts aren't unheard of. Earlier this year, the redesigned Toyota Mirai got a similar-sounding deal involving 0% APR plus $20,000 off MSRP.
Current Hyundai offers end on July 6, 2021.