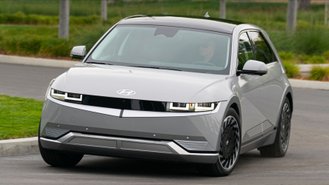 Although they've been offering enhancements on existing EV lease deals, Hyundai has not been passing on the Federal EV Tax credit to consumers. However, they have followed the industry trend and are now offering $7,500 in lease cash on both the 2023 Kona Electric and 2023 IONIQ 5.
According to a recent dealer bulletin, Hyundai is passing on $7,500 in lease cash on both of their electric models. We've been seeing more and more brands offer more aggressive EV lease incentives following the changes to the tax credit guidelines, so it's not surprising to see Hyundai sweeten their deals. They began offering $2,750 in lease cash on the IONIQ 5 earlier in the month but are now offering the full $7,500 for both the IONIQ 5 and the Kona Electric.
Obviously, a $7,500 lease credit is a major benefit to consumers on its own, but Hyundai also enhanced its existing EV lease deals. The 2023 Kona Electric already sported a strong lease deal, but the monthly payment was lowered by $10 to $269 (over 36 months), with the amount due at signing remaining at $3,999.
IONIQ 5 lease payments are down $30 to $40 depending on trim. A rear-wheel drive SE model can be leased for $539 per month, while the all-wheel drive SEL will set you back $639 per month. All advertised IONIQ 5 lease deals are for 39-month terms and have $3,999 due at signing.
Both models have become far better to lease after Hyundai's latest enhancements over the last few months. Pricing for the IONIQ 6 was recently announced, so we may see attractive lease deals for Hyundai's newest EV in the not-too-distant future as well.