Although the initial purchase cost may be the most obvious part of buying a new car or SUV, it can be easy to overlook the costs of ongoing maintenance. Hyundai is hoping to make that easier with a new 2-year complimentary maintenance offer on the Santa Fe and Santa Fe Sport.
This may be nothing particularly new given what we've seen in the past from competitors, but as it stands these are the only two Hyundai-branded models eligible for the incentive. So what does the offer include? Are there any exclusions? And is now a good time to buy?
Here's what you need to know.
Offer Details
Starting today, Hyundai is offering complimentary maintenance for 2 years or 24,000 miles (whichever comes first) when buying a Santa Fe or Santa Fe Sport. Both the 2017 and 2018 versions are eligible now through January 2, 2018.
These are the only two Hyundai-branded models eligible for this offer. The reason for this, according to a Hyundai spokesperson, has to do with the high degree of competition the Santa Fe models currently face.
The main benefits here are with routine oil changes, tire rotations and cabin air filter. Much like similar offers from competitors, the promotion excludes wear & tear items such as tires and brakes.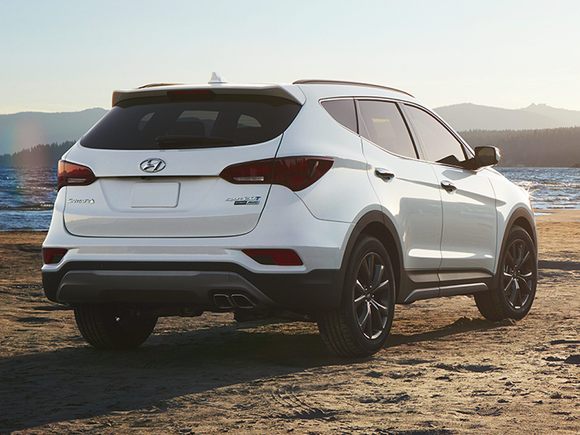 Since the offer is through Hyundai Motor Finance, you'll need to finance or lease your vehicle to get the deal. That's a bit different from Toyota, which also offers 2 years of free maintenance but without such caveats.
The fine print states that the offer is non-transferable, which means that only the original owner or lessee is eligible. Sadly, purchases prior to September 21 are not entitled to receive the benefit.
Is It Worth It?
If you were already planning on buying a Santa Fe model, particularly one with the turbo engine, this could be a way to save some extra money. The turbo is subject to a slightly more intensive oil change schedule compared with the naturally-aspirated engines.
That said, this is nothing particularly groundbreaking. GM and Toyota offer similar programs across a much broader range of vehicles, with the Chevy Traverse and Toyota Highlander being two notable examples. If you're looking to save serious money, keep an eye on factory discounts.
Special offers have fluctuated quite a bit over the past couple months. Deals vary based on which style you choose, and the best deals are on the Santa Fe Sport with up to $4,500 in savings when choosing a 2.4-liter model with Tech Package. Most other versions get about $1,000 less.
Just 2 months ago, the automaker was offering a whopping $6,000 off versions with the 2.4-liter and Tech Package. It's unusual for deals to get substantially worse over time, which makes this a prime example of just how much it can pay to keep a close eye on promotions.