Driver assistance tech has increasingly become a differentiator among popular cars and SUVs. However, all too often, they're only available on the most expensive trims with additional costs easily amounting to thousands of dollars.
Hyundai is taking the unusual step of offering to help take the sting out of this cost with a special discount in April. Called the Sun & Safety Equipment Coupon, the incentive is available on the most feature-packed versions of the Tucson and Santa Fe Sport crossovers.
So what does the offer entail? Are there any special restrictions? Can you combine the discounts with other incentives? And how long do you have to take advantage of this?
Here's what you need to know.
Offer Details
Beginning today, Hyundai is offering a Sun & Safety Equipment Coupon on certain "Ultimate" configurations of the 2017 Tucson and Santa Fe Sport with a panoramic sunroof and automatic emergency braking. This is the first offer of its kind that we've seen from the Korean automaker.
The discount amounts to $1,250 off the Tucson Limited with Ultimate Package which has an MSRP of $33,420 including destination. The Santa Fe Sport gets a larger $2,000 discount off the 2.0T Ultimate with Tech Package, which has an MSRP of $38,945.
On the Tucson, the $1,250 helps offset the $2,750 Ultimate Package, which adds features like a panoramic roof, ventilated front seats, and safety tech like lane departure warning, parking sensors and automatic emergency braking with pedestrian detection.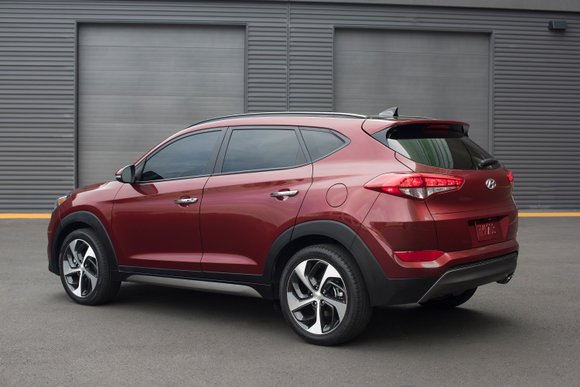 In the case of the Santa Fe Sport, the $2,000 offsets the $1,550 Tech Package which adds features like adaptive cruise control, lane departure warning, auto high beams, an electronic parking brake and automatic emergency braking with pedestrian detection.
The new incentive is especially appealing since it can be stacked with advertised cashback, finance and lease offers. On closer inspection, we've found that combining discounts can yield some impressive savings.
Current offers expire May 1, 2017.
Save By Stacking Offers
This month, you can get $2,250 cash on any 2017 Tucson. Together with the $1,250 equipment discount, you can save up to $3,500 off eligible vehicles in stock. But that's not all.
If you finance at non-promotional rates, Hyundai will give you an additional $500 bonus for $4,000 in potential savings. If you're a current Hyundai owner, there's a $500 loyalty bonus that brings you to $4,500. And that's before negotiating with your local dealer.
In the case of the Santa Fe Sport, you can potentially save up to $5,000 this month. That's when factoring a $2,250 cash incentive, the $2,000 equipment discount and a $750 bonus for financing at non-promotional rates. We've never seen a discount this high on either model.
Assuming a generous dealer discount in competitive regions, it's entirely possible to see a decked-out Tucson with a sticker price of over $33,000 selling for less than $28,000. It's also conceivable to see the $39,000 range-topping Santa Fe Sport falling to the mid-$31,000 range.
Your ability to negotiate will be dictated by local market conditions which will reflect demand and availability. That said, we think the chances are good that you'll be able to negotiate a great price on these models.
Current offers are set to end May 1, 2017.
Our Take
Getting access to the full gamut of safety tech is often a costly decision. However, with offers like these, shoppers have an attractive alternative. In some cases, you may find that opting for a better-equipped vehicle ends up being a better value than a cheaper model.
That said, competitors like Toyota have opted to take a different route by offering some of these features standard on popular nameplates. For example, the 2017 RAV4 offers adaptive cruise, lane-keeping assist and automatic emergency braking on even the entry-level LE. With discounts, we're seeing prices in the mid-$23,000 range.
However, there are of course trade-offs since automakers often bundle these features differently. In some cases, you may not be dealing with an apples-to-apples comparison or may be forced to consider features you may not necessarily want. Be sure to check specs carefully when making a decision.
Will Hyundai increase the appeal of its best-equipped crossovers? Is this a sign that the automaker intends to cut prices at the top of its range when the 2018 models go on sale later this year? That remains to be seen.