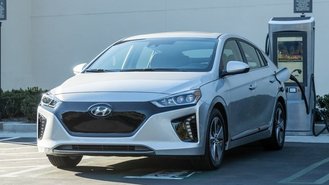 The Hyundai Ioniq Electric has been a compelling choice for EV shoppers due to a rather generous "unlimited mileage" subscription lease. However, bulletins show the 124-mile vehicle has lost some key benefits for 2018.
Apart from payments that are up to $90/month higher than last year, the car will no longer offer a monthly charging reimbursement and dealers will no longer be reimbursed for tax, title, license and fees.
Here's what you need to know.
More Expensive Leases
For 2018, the Ioniq Electric, which is only sold in California, will no longer feature a monthly charging reimbursement when leased. Previously, charging costs could be offset based on a complex formula after signing up for the brand's Blue Link service.
A Hyundai spokesperson confirmed the change today for CarsDirect, stating that the program's language would soon be updated on the automaker's website.
At the same time, monthly lease payments have gone up. The 2018 Ioniq Electric starts at $295 for 36 months with $2,500 due at signing, an increase of $20/month compared to the 2017 model.
The Limited now starts at $395/month, $90 more than it did previously.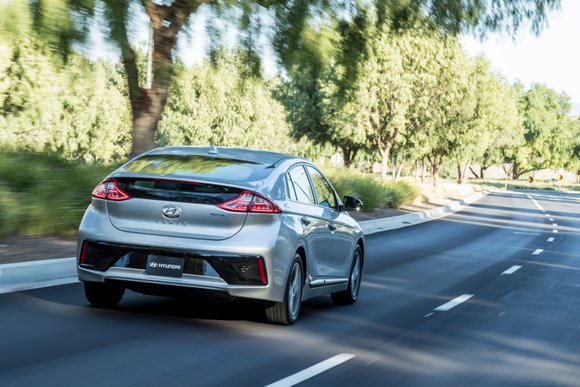 That said, this year's Limited is basically last year's Limited Ultimate due to a change in equipment. Along with a $3,500 base price hike, the car now comes with automatic emergency braking, blind spot warning, leather seats and more. Compared to last year's Ultimate, the new Limited is $30/month more expensive.
But that's not all.
Behind the scenes, Hyundai is no longer reimbursing dealers for the cost of tax, title, license and fees. Since these costs will likely now be passed along to customers, expect to pay a bit more in addition to the prices you see advertised.
As before, the Ioniq Electric can effectively translate to a $0 down lease if you can offset the amount due at signing by the California Clean Vehicle Rebate, which is worth $2,500 for most applicants but has income-based limits.
Still A Good Value?
Commuters may still find the car to be a good value when leased because of its "unlimited mileage" provision. Competitors like the Nissan LEAF and Chevy Bolt EV tend to be advertised with either a 10,000 or 12,000 mile per year allowance.
Hyundai is continuing to offer 3 years or 50,000 miles of routine maintenance covering things like brake pads, wheel alignments and more. Although it doesn't cover the car's main battery, Hyundai already offers a lifetime battery warranty.
Wondering if you can still pick up a 2017 Ioniq Electric eligible for the original terms? Sadly, you're out of luck. That program was discontinued for April and the only choice for lessees is now the 2018 version.
Interestingly, this seems to be a case in which early adopters were able to actually snag a pretty sweet deal.